Lester W. Schultz, a member of the LCMS Board of Directors from 1977 to 1992, died July 6 at his home in Fayetteville, Ga., from congestive heart failure and rel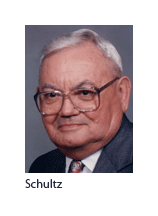 ated complications. He was 89.
The funeral service was July 9 at Redeemer Lutheran Church, Nashville, Tenn., and interment with military honors immediately followed at Harpeth Hills Memory Garden in Nashville.

Mr. Schultz was a member of St. Paul Lutheran Church, Peachtree City, Ga.

Survivors include his wife of 67 years, Florence; three children — Karen (Kenneth) Krause of Decatur, Ind.; Linda (Robert) Reed of Nashville, Tenn.; and Dr. Warren (Linda) Schultz of Brooks, Ga. — six grandchildren; and nine great-grandchildren (another great-grandchild died in infancy).

Through the years, Mr. Schultz also was active at the congregational and district levels of the church.
He was a veteran of the United States Army, having served in World War II.

In 1977, Mr. Schultz retired from Pauly Cheese Co. (a division of Swift & Co.), where he was controller.

The family suggests that memorials be donated to Concordia Theological Seminary, 6600 N. Clinton St., Fort Wayne, IN 46825-4996.
Posted July 15, 2009