The Lutheran Church–Missouri Synod has joined two social-networking services in order to reach more people with the Gospel, keep visitors up to date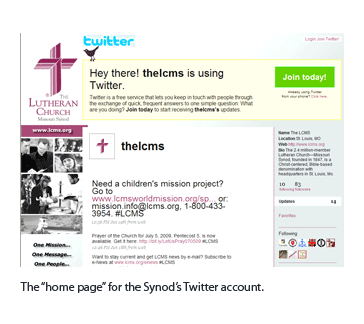 on Synod information, and encourage a more personal connection with the church.
The Synod's Twitter account, started May 28, had 150 "followers" as of July 8. Administrator Becky Cummings, manager of Internet Affairs with the LCMS Board for Communication Services, says the site is picking up new followers every day.
Twitter is a micro-blogging service that allows users to post short messages of 140 characters or less. Through the LCMS site, visitors can find out "what's going on in the LCMS," according to Cummings. The service will enable the Synod to expand its outreach, she said, by "reaching a new segment of people."
Recent "tweets," or messages, included information on children's mission projects, a prayer for the church, e-news (the Synod's e-mail-based news service), and the LCMS Youth Gathering.
There are three ways to read LCMS Twitter messages:
Visit the Web site at www.twitter.com/thelcms and read messages there.
Create an account and sign up to receive tweets as "text" messages on your cell phone. Click on the "Join today!" link on the above Web site to register.
Subscribe to the RSS feed on the LCMS Twitter Web site.

Other LCMS entities that have Twitter accounts include Concordia Publishing House, Lutheran Hour Ministries, LCMS World Mission, LCMS District and Congregational Services–Youth Ministry, some Concordia University System schools, and some LCMS districts.
The Synod's Facebook page — at www.facebook.com/thelcms — has 2,873 "fans," or Facebook user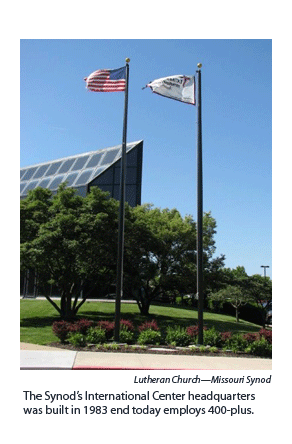 s who follow the site. Among current postings are photos from the 25th anniversary of construction of the LCMS International Center in 2008 and of the construction of the LCMS International Center in 1983, as well as the summer issue of the LCMS Parish Nurse Newsletter and Home Base, an e-journal for Christian family life.
Future items to be posted will include photo "albums" of the center's artwork and the new Concordia Historical Institute Museum, as well as more information about LCMS ministries.
Cummings says the new LCMS Twitter and Facebook accounts will allow the Synod to better reach out to its constituents — "being where they are and keeping them updated on their terms."
Moreover, adds Vicki Biggs, the Synod's director of Public Affairs and Media Relations, "The beauty of social media tools like Facebook and Twitter is that they go beyond allowing the one-to-many communications opportunities that traditional communications tools offer, and enable us to develop one-to-one personal relationships with people all over the world."
Posted July 9, 2009