The International Lutheran Laymen's League Board of Governors has chosen Bruce Wurdeman as executive director of Lutheran Hour Ministries (LHM).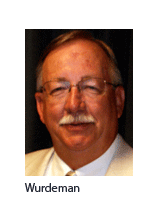 Wurdeman, 60, currently is LHM's director of United States Ministries. He will begin work in his new position Aug. 1. Wurdeman succeeds Laurence E. "Larry" Lumpe, who plans to retire at the end of July following his second stint in the post, which began Dec. 4, 2007.
Lumpe also served as LHM's executive director from 1989 until his retirement in 1996.
Wurdeman has been with LHM since February 2008. He previously served LHM from 1994 through 2002 in the Volunteer Opportunities department as an assistant director and manager, positions that enabled him to recruit and train more than 100,000 volunteers nationwide. Most recently, he served as a mission and ministry facilitator for the Synod's Texas District, where he was a resource person for 100 congregations in West and South Texas.
"Bruce has a great vision for the ministry and high expectations for excellence," said Mick Onnen, president of the Int'l LLL. "I praise God for Bruce and his willingness to accept the executive director position, and I pledge my full support for his work and service among us."
LHM is a ministry of the Int'l LLL that produces Christian radio and TV programming for broadcast, as well as Internet and print communications, dramas, music, and outreach materials to reach the "unchurched" in more than 30 countries.
For more information, call 800-876-9880 or visit www.lhm.org on the Web.
Posted June 24, 2009