Rev. Ken Klaus, speaker of "The Lutheran Hour," has announced his intention to retire from the position in January 2011.
Klaus has been speaker of the flagship program for Lutheran Hour Ministries si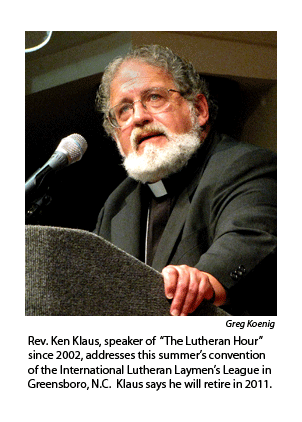 nce 2002, and serves as the media spokesperson, spiritual leader, and evangelist for the organization, as well as ministry emissary with the LCMS and Lutheran Church–Canada.
"In answer to many questions you may have: I am feeling fine, I love the International Lutheran Laymen's League and Lutheran Hour Ministries, I love the direction of the LHM Men's NetWork as a way to ignite and challenge the faith lives of men, and I have a great respect for our new Executive Director Bruce Wurdeman," Klaus said. "Still, I believe that January 2011 is the right time for someone else to fill the speakership and I want to provide enough time for selecting a replacement to ensure a smooth transition."
After his retirement date, Klaus will continue working on several LHM projects, including:
writing and recording 12 sermons for "The Lutheran Hour," and producing the accompanying question-and-answer portion of the program.
writing and editing LHM's Daily Devotions that are e-mailed to more than 34,000 subscribers.
producing two Bible studies and 12 installments of "The Baloney Shop" for the LHM Men's NetWork.
representing LHM at speaking engagements.
"Pastor Klaus has been — and continues to be — a blessing to our ministry," said Wurdeman. "We are pleased it is the Lord's will to allow us to continue using his talents beyond January 2011."
"The Lutheran Hour," which first aired in 1930 and is the world's longest-running Christian outreach radio program, proclaims the Gospel to more than 600,000 listeners over 961 stations throughout North America, according to LHM.
The Board of Governors for the International Lutheran Laymen's League has begun a nationwide search for a new speaker, and asks Lutherans to keep Klaus and the search for his successor in their prayers.
Lutheran Hour Ministries is a Christian outreach ministry supporting churches worldwide in its mission of "Bringing Christ to the Nations — and the Nations to the Church." LHM produces Christian radio and TV programming for broadcast, as well as Internet and print communications, dramas, music, and outreach materials, to reach "unchurched" people in more than 30 countries.
For more information, visit the LHM Web site at www.lutheranhour.org.
Posted Nov. 18, 2009