After 14 years of war, it has taken four Lutheran church bodies in Liberia, West Africa, just two years to come together and form the Evangelical Lutheran Church of Liberia.
"At the meeting two years ago when they promised each other that they would try to overcome their differences, one of their themes was our Synod's vision statement — 'One Mission, One Message,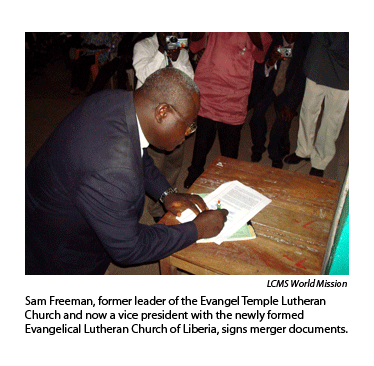 One People of God,' " said Dr. Daniel Mattson, associate executive director of LCMS World Mission. "Clearly, God guided them in achieving that goal so that they can proclaim the reconciling power of the Gospel in powerful ways after all the chaos and killing. Even the current Liberian president, Ellen Johnson-Sirleaf, has noted the importance of this development."
Adds Mattson: "The LCMS can be proud to be involved with this group of courageous Lutheran people."
The new denomination of some 350 congregations was formed earlier this year when the separate Liberian Lutheran church bodies merged. Leaders of the four churches — the Evangelical Lutheran Church–Liberia Synod, the Universal House of Prayer Evangelical Lutheran Church of Liberia, the Evangel Temple Lutheran Church, and Christ Assembly Lutheran Church — signed a "memorandum of unification" during a five-hour service May 14 in Monrovia.
"The peaceful merger has been held up as an example to the nation, which is still recovering after the Liberia civil war," said Dr. Michael Rodewald, regional director for Africa with LCMS World Mission. "When I visited them in May, the leaders were extremely excited about the merger. As we visited different churches in Monrovia, one leader exclaimed to another, 'Look, our church is just over there. We were worshiping apart, and now we can be together.' "
During the unification service, Rev. Amos Bolay, former president of the Universal House of Prayer Evangelical Lutheran Church of Liberia, was installed as interim president of the new church body, along with interim members of the new church council and executive committee. The interim leaders are charged with fine-tuning the new church's constitution and programs. In two years, elections will be held.
Major goals of the Evangelical Lutheran Church of Liberia include establishing a seminary with both pastoral and deaconess programs, and applying for membership in the International Lutheran Council.
In the years before the merger, each of the church bodies had started congregations and schools throughout the country, so the new Evangelical Lutheran Church of Liberia "now has congregations, Lutheran schools, pastors … and church leaders in almost all of the 16 language/cultural groups and major regions of Liberia," notes Dr. David Erber, area facilitator for English speaking West Africa with LCMS World Mission. "The church is in a tremendous position to share the message of Jesus Christ to the entire nation."
Posted Sept. 30, 2009