"Care of the Aged and the Chronically Ill: A Medical Mission Approach" is the theme for the Sixth Annual Needs and Resources Forum, to be held March 19-20 at Concordia Seminary, St. Louis.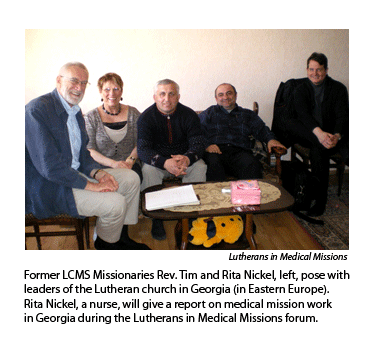 The forum is sponsored by Lutherans in Medical Missions (LIMM), in conjunction with Concordia Seminary, LCMS World Mission, and the Lutheran Foundation of St. Louis.
Hosts for the event will be seminary faculty members:
Dr. Robert W. Weise, professor of Practical Theology at the seminary and the Lutheran Foundation of St. Louis Chair in Pastoral Ministry and the Life Sciences, and
Dr. Leopoldo Sánchez, assistant professor of Systematic Theology, director of the Center for Hispanic Studies, and the Werner R.H. Krause and Elizabeth Ringger Krause Endowed Chair for Hispanic Ministries.
Dr. Roger Weise, a geriatric physician for Alexian Brothers Hospital Network/Older Adult Institute and Older Adult Healthcare, Elk Grove Village, Ill., will be the main speaker, and Rev. Jonathan Stein, the seminary's campus chaplain, will lead Bible studies.
Former missionary nurses Judy Schache and Rita Nickel will give reports on LIMM projects in Papua New Guinea and Georgia (in Eastern Europe), respectively. Carol Broemmer, R.N., will share information on parish nurses who serve internationally, and describe a system of health care assistance to elderly and chronically ill refugees living in St. Louis.
Receiving recognition for their contributions to medical missions will be retired missionaries Rev. Tim and Rita Nickel and Dr. Allan and Carol Buckman, founders of Christian Friends of New Americans.
Registration for the two-day conference is $90 ($75 before Jan. 1), and includes a lunch and two dinners. Single-day registration is available for $30 for March 19, and $60 for March 20. Couples may register for a total of $160, or $150 before Jan. 1.
A limited number of scholarships are available for students.
For more information, call LIMM Executive Director Bobbie Lautenschlager at 314-503-4317 or send an e-mail to limm@limm.org.
Posted Dec. 16, 2009