Members of the board that is supervising a joint U.S.-German effort toward Gospel outreach in Wittenberg, Germany, were warmly received when they met in separate meetings last month with the Synod's Board of Directors, Council of Presid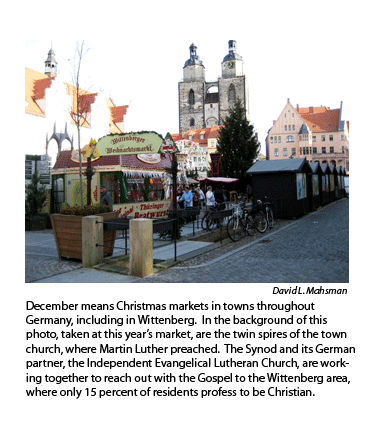 ents, and Board for Mission Services.
The supervisory board of the International Lutheran Society of Wittenberg (ILSW) met Nov. 18-19 in Tampa, Fla. It used the opportunity to meet with the three LCMS boards, who also were meeting in Tampa in advance of the Lutheran Church Extension Fund Fall Leadership Conference.
The ILSW was established by the Missouri Synod and its German sister church, the Independent Evangelical Lutheran Church, known as the SELK, to work jointly in the city most associated with Martin Luther and the Reformation.
"I think we made a great deal of progress toward developing a ministry plan for Wittenberg," said Rev. David Mahsman, an LCMS missionary who is serving as managing director of the ILSW. "And everyone on the board was very happy with the warm reception they got from the Board of Directors, the COP, and the mission board."
It was the ILSW board's first meeting since Mahsman began working in Wittenberg in September. The board has three members from the Missouri Synod, three from the SELK, and one from Concordia Publishing House.
Mahsman said that most of the meeting was spent working through his first report, which dealt with building relationships for Gospel outreach in Wittenberg, looking at ways to share the Gospel with the hundreds of thousands of tourists who visit the Luther city every year, and exploring options for LCMS students and others to study there.
Only about 15 percent of the people of Wittenberg even profess to be Christian, Mahsman said. The hope is that the LCMS and SELK can help with Gospel outreach "in the very place God used 500 years ago to see to it that we have the Gospel today," he added.
The ILSW board's next meeting will be Feb. 16 via video conference.
Posted Dec. 9, 2009