The Lutheran Women's Missionary League is offering a new Christmas card for 2009.
Designed by St. Louis artist Judy Newell, the four-color card features the word "Savior," with Baby Jesus n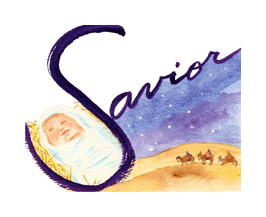 estled in the capital "S." In the lower right of the watercolor card, the Wise Men are shown riding their camels.
The Scripture verse from Titus inside the card reads: "The wise men were looking for a king, but found the Savior of the World. Rejoice in our Savior!"
The card is available only through the LWML. A package of 10 cards with envelopes is $6.50, plus shipping (item no. 16520-09). The LWML is offering through Dec. 5 a "Web Special": purchase two packages and get one free.
To order, visit http://shop.lwml.org (type 16520 in the "Search" box. If you want the special, type "Web Special" in the "Enter Comments" box on the checkout page).
Or, call the auxiliary's St. Louis office at 800-252-LWML (5965). You can still get the "Web Special" by mentioning it during your call.
Posted Nov. 11, 2009