The Milwaukee Business Journal has named Dr. Patrick T. Ferry, president of Concordia University Wisconsin, Mequon, one of the Milwaukee area's "most influential peo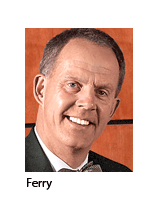 ple" in the field of education.
The distinction was profiled in the Journal's first Power Book issue, which was a supplement in the newspaper's Nov. 20 issue. The Power Book includes 70 executives from 14 industries who are considered to be making an impact in the Milwaukee community.
Ferry was chosen for his work in developing Concordia's School of Pharmacy, which is set to open in 2010, and for helping the university reach this year's record enrollment of 7,178 students.
"I am obviously flattered to be recognized alongside so many key leaders in our community," Ferry said. "Of course, I recognize that at Concordia, ours is very much a team venture with committed people who, working together, are accomplishing many significant things in fulfillment of our mission."
According to Business Journal Editor Mark Kass, the premise of Power Book was to identify the business executives in town who are known for getting things done.
Ferry's recognition comes on the heels of his recent selection as one of three people to receive a Health Care Hero Award in the category of "Advancements in Health Care" by The Milwaukee BizTimes. He received that award, also for his work in developing Concordia's School of Pharmacy, during a Dec. 10 ceremony in Wauwatosa, Wis.
Posted Dec. 16, 2009