Rev. Barrie Henke of Edmond, Okla., and Rev. Myles Schultz, Okmulgee, Okla., were elected president and first vice president of the Oklahoma District during its April 24-25 convention in Norman.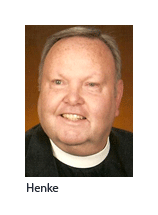 Henke succeeds Rev. Paul Hartman of Oklahoma City, who retired from the presidency after serving since 2001. Henke is the senior pastor of Holy Trinity Lutheran Church in Edmond, where he has served for 18 years. He was the district's second vice president for the past three years.
First Vice President Schultz is pastor of Trinity Lutheran Church, Okmulgee, where has served since 1990. He previously was third vice president.
With "Oklahoma Hearts — Strengthened for Sharing Christ" as its theme, the convention encouraged congregations to identify, support, and develop ethnic ministry opportunities.
Delegates also affirmed the importance of rural and small-town congregations, encouraging them to partner to expand the mission to their regions. Another resolution encouraged congregations near colleges and universities to reach out "with creativity, excitement, and faithfulness" to people associated with campuses.
Another resolution asks the district mission secretary to meet with every circuit to analyze needs and form strategies to further proclaim the Gospel through a Lutheran presence. Delegates also approved the Ablaze! goals adopted in 2006.
The convention also encouraged a "creative partnership" with The Evangelical Lutheran Church of Haiti. The resolution asked individuals, congregations, institutions, organizations, and auxiliaries of the district to support the Haitian church through prayer, resource sharing, and financial support.
The convention theme was reflected in the opening sermon by LCMS President Gerald B. Kieschnick and in the daily devotions by area pastors. LCMS First Vice President William Diekelman, former president of the district, preached at the memorial service and installed the district officers and board members.
In other action the Oklahoma District:
asked congregations to acknowledge and use the activities, events, and resources provided by the district youth board, the two district camps, and professional youth workers in the district.
encouraged congregations to support their pastors "financially, practically, and spiritually" in their endeavors to serve as chaplains to law enforcement officers and firefighters.
called for a survey of congregations for resources of people and dollars to support the District Media Awareness and Ministry Advancement Subcommittee and, in another resolution, asked the subcommittee to develop a technology task force for media outreach and social networking to assist the congregations and the secretaries of the district ministries.
Rev. David Nehrenz of Norman, Okla., and Rev. Christopher Hall of Enid, Okla., were elected second and third vice presidents, respectively.
Posted April 29, 2009