Lutheran schools and their sponsoring congregations may order a variety of resources from LCMS District and Congregational Services — School Ministry to promote National Lutheran Sch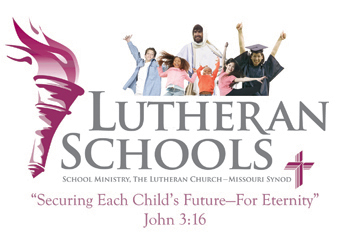 ools Week (NLSW), set for March 1-7. To guarantee delivery in time for that week, orders and payments must be received by Feb. 12.

This year's NLSW theme, "Securing Each Child's Future — for Eternity," is based on the universally familiar words of John 3:16: "For God so loved the world that he gave his only son, that whoever believes in him should not perish but have eternal life."

"Lutheran schools use these resources to help promote special community events such as celebrations and open houses — to call attention to their overall mission and the theme of securing each child's future," Bill Cochran, director of LCMS School Ministry, told Reporter.

In addition, Cochran noted, many schools use the theme and materials in conjunction with an offering. For this year's Lutheran Schools Week observance, DCS–School Ministry suggests that schools designate funds from such offerings to support "The Wittenberg Project."

Basically, that project — a joint venture of a number of Synod-re
lated entities — aims to renovate and equip a historic school building in Wittenberg, Germany, for use as a ministry center.

The 2009 resources are:

a 3-by-5-foot vinyl banner with brass grommets, for indoor display or outdoor advertising, (white with full-color School Ministry logo and NLSW 2009 theme verse), $40.

a 34-page "Worship and Resource Manual" to help keep a spiritual focus on the NLSW celebration — only in downloadable pdf format, $12.

balloons (25 per bag, green with white imprint of the 2009 theme verse), $5.

foldable vinyl hand-toss disc flyers, suitable for coloring as students desire (10 per bag, white with theme verse), $12.

NLSW magnets, 5-1/2-by-2-1/2 inches, for indoor or outdoor use (20 per bag, white with full-color Lutheran schools logo and 2009 NLSW theme), $22.

Pencils (25 per bag, burgundy with white imprint of 2009 NLSW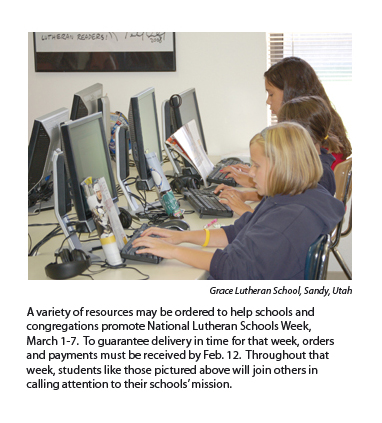 theme), $8.

11-by-17-inch posters to promote NLSW in the school, church, and community (pack of five, white with full-color NLSW 2009 theme and verse), $4.
These resources, available exclusively from DCS School Ministry, may be ordered online or by mail, using order forms that were sent to Lutheran elementary and high schools in a November mailing. To order online, go to www.lcms.org/dcsstore and click on the yellow order bar. Include $6 for shipping and handling for mailed-in orders totaling up to $50, and $9 for those above that total. No shipping and handling charges apply for online orders or for the "Worship and Resource Manual."

For more information, call Kathy Fangmann toll-free at 800-248-1930, ext. 1285.
Posted January 15, 2009