Registration for the 2010 National LCMS Youth Gathering, with the theme of "We Believe," is now open.
To begin the process and find step-by-step instructions on registration, congregations may log onto the Gathering Web site at www.lcmsgathering.com. For more information about registration, see the 2010 National Youth Gathering Registration Book on the Web site.
Those with questions about the registration process should send an e-mail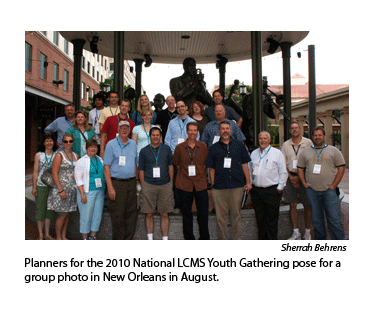 to nygregistration@lcms.org or call the registration office at 800-248-1930, ext. 1155. Hours of operation for the Gathering registration office are 7:30 a.m.-4 p.m. (Central Time), Monday through Friday.
The Youth Gathering office also is now accepting applications for Young Adult Volunteers (YAV). YAVs are 19- to 25-year-olds who serve as role models for teen participants while working in specific areas of the Gathering. Those interested in serving in this capacity are invited to visit the Young Adult Volunteer section of the Gathering Web site.
That site is being updated regularly with new information and resources for groups planning to attend the Gathering. Adult leaders for the Gathering may visit the Adult Leader section of the site for information on developing their Family Groups, planning fundraisers, and more.
In addition, thESource for Youth Ministry has a "Road to the Gathering" blog that gives a personal overview of the Gathering from the perspective of one who has been both a youth participant and an adult leader. The blog posts may be found at www.youthesource.com or on the Family Life page of the Gathering Web site.
Posted Sept. 30, 2009