In January, the Synod's Board for University Education mailed to all LCMS congregations a brochure promoting "Concordia Sunday," suggested for April 26.
The special observance, which may be held that day or any Sunday of t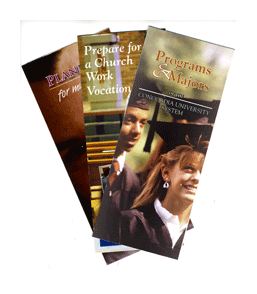 he year, is designed to call attention to the Synod's 10 Concordia colleges and universities, their programs of study, and the various professional church careers that are available to students.
The special Sunday offers an opportunity for congregations to recognize and support the work being carried out by professors, staff, and students at those institutions.
The Synod's Concordia University System (CUS) schools are in Ann Arbor, Mich.; Austin, Texas; Bronxville, N.Y.; Irvine, Calif.; Mequon, Wis.; Portland, Ore.; River Forest, Ill.; St. Paul, Minn.; Selma, Ala.; and Seward, Neb.
The mailing includes a form congregations can use to order free resource materials to help them celebrate "Concordia Sunday."
Those materials include:
a "Celebrate Concordia" packet, with prayers for university education, suggested hymns, ideas for activities and displays, speaker suggestions, and brief announcements for worship folders and newsletters.
bulletin inserts.
Viewbook, which provides an overview of the programs, sports, and extracurricular activities at each of the 10 CUS schools.
new brochures — "Planning for My Future," "Programs and Majors," and "Prepare for a Church Work Vocation."
Many of the resources may be downloaded from the Board for University Education Web site at www.lcms.org/universities (click on "Downloads" at left).
For more information about "Concordia Sunday" or the Synod's colleges and universities, call (800) 248-1930, Ext. 1252, or send an e-mail to bue.info@lcms.org.
Posted Feb. 26, 2009