The 29th Annual Fall Festival at the historic Saxon Lutheran Memorial in Frohna, Mo., will be held from 9 a.m. to 4 p.m. Oct. 10. Frohna is located in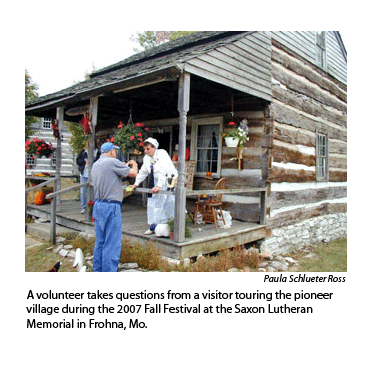 Perry County, Mo., a little more than an hour's drive south of the St. Louis area.
The memorial, owned and operated by the Concordia Historical Institute — the Synod's Department of Archives and History — is an outdoor history museum and log cabin village that commemorates the 1839 arrival of more than 600 Saxon immigrants who left Germany for religious freedom in the United States.
The festival will offer horse-drawn wagon rides and demonstrations of pioneer skills such as blacksmithing, butter-churning, quilting, spinning, cross-cut sawing, and broom- and rope-making. Visitors also may tour a 15-building pioneer village that includes the original log cabin of Saxon brothers Wilhelm and Christian Adolf Bergt, a museum, and a gift shop with locally-made craft and food items.
This year's festival is special for two reasons, according to the memorial's curator, Lynda Lorenz. It's the 170th anniversary of the immigration of the Saxons to the area, and more than 50 descendants of the Bergt brothers will be on site for a family reunion.
Arts and crafts and food items will be available for purchase during the festival, and musicians will provide entertainment throughout the day.
"We want people to gain a new appreciation of what life was like in the mid-1800s" and "enjoy themselves," said Lorenz.
"Come and learn something new by experiencing something old," she added.
For more information, visit the memorial's Web site at www.saxonlutheranmemorial.com. Or contact Lorenz at slmlynda@att.net or 573-824-5404.
Posted Sept. 16, 2009