Prospective students can get a sample of seminary life and curriculum during March visitation events scheduled at the LCMS seminaries in St. Louis and Fort Wayne.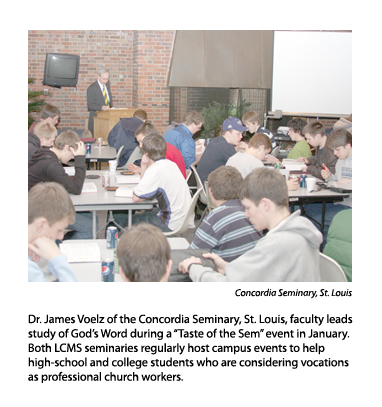 Concordia Seminary, St. Louis, will host "Contemplate" March 12-14 for prospective students. Concordia Seminary, Fort Wayne, will host an invitational campus visit March 19-21.
Both events are for men considering pastoral ministry and women interested in deaconess ministry. They are for students who are college age or older. Participants may bring along spouses or guests.
Guests in St. Louis are invited to tour the Concordia Seminary campus, observe classes, or visit the bookstore before a welcome reception and dinner with seminary faculty on the evening of March 12. Breakout sessions and a chapel service will follow.
On March 13, St. Louis participants will pair with a current student for chapel and class observations. Other sessions will focus on the spiritual and personal aspects of the decision-making process, academics, field education, vicarage and internships, financial assistance, and housing. In the evening a panel will discuss seminary life. On March 14, participants will tour married- and single-student housing and meet individually with admissions counselors.
At Concordia Theological Seminary, Fort Wayne, prospective students will tour Fort Wayne on March 19, followed by an informal reception and dinner with faculty at 5 p.m.
On March 20, the Fort Wayne participants will attend information sessions on the Office of the Ministry, financial aid, and relocation, followed by Bible study and an evening banquet. March 21 events include presentations on the seminary curriculum and a panel of current students discussing seminary life. Visitors also may attend Matins, Morning Office, and Vespers at the Kramer Chapel.
Both seminaries offer the events at no charge for meals or housing on campus. For information about the St. Louis event, contact admissions@csl.edu or call 800-822-9545. For information about the Fort Wayne event, send e-mail to dorraa@ctsfw.edu or call 260-452-2155.
Posted February 5, 2009