The Concordia Seminary (St. Louis) Chorus, under the direction of Rev. Henry V. Gerike, will visit Lutheran congregations in Missouri, California, Arizona, and N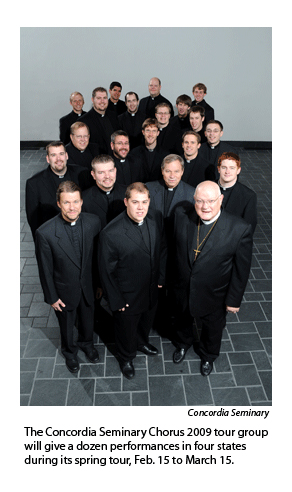 evada on its 2009 spring tour.
The Chorus will provide sacred concerts that include prayer, Scripture readings, and congregational singing.
The Chorus also will perform the newly commissioned piece by Dr. Ralph C. Schultz, former president of Concordia College, Bronxville, N.Y., a setting of "O Christ, Who Art the Light and Day." Schultz selected stanzas of an ancient evening hymn, along with quotations of Jesus being the light of the world, and arranged them for male chorus and viola.
Dates and sites for the tour are:
Sunday, Feb. 15, 3:30 p.m. — Holy Cross Lutheran Church, St. Louis.
Sunday, Feb. 22, 9 a.m. — St. Paul Lutheran Church, Pomona, Calif.
Sunday, Feb. 22, 7 p.m. — Grace Lutheran Church, San Diego.
Monday, Feb. 23, 7 p.m. — Christ Lutheran Church, Yuma, Ariz.
Tuesday, Feb. 24, 7 p.m. — Christ Church Lutheran, Phoenix.
Thursday, Feb. 26, 7 p.m. — First Good Shepherd Lutheran Church, Las Vegas.
Friday, Feb. 27, 7 p.m. — Faith Lutheran Church, Capistrano Beach, Calif.
Saturday, Feb. 28, 7 p.m. — Abiding Savior Lutheran Church, Lake Forest, Calif.
Sunday, March 1, 9 a.m. — Holy Trinity Lutheran Church, Hacienda Heights, Calif.
Sunday, March 1, 5 p.m. — First Lutheran Church, Venice, Calif.
Monday, March 2, 7:30 p.m. — Christ the King Lutheran Church, Newbury Park, Calif.
Sunday, March 15, 4 p.m. — Immanuel Lutheran Church, Perryville, Mo.
The Concordia Seminary Chorus, which includes the spring tour group, numbers about 60 seminarians, who commit to balancing full course loads with weekly rehearsals and special tour rehearsals. Gerike has conducted the Chorus since 1992.
For more information, or to order CDs of Chorus recordings, contact the Concordia Seminary bookstore at 314-505-7315 or bookstore@csl.edu.
Posted Feb. 12, 2009