By Paula Schlueter Ross
LCMS World Mission and its partners in Argentina, Brazil, Chile, Paraguay, and Uruguay have decided to co-train their missionaries to better prepare them for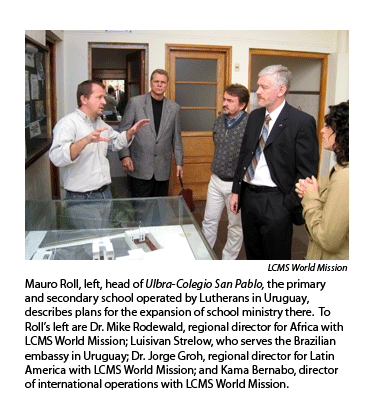 cross-cultural service and to help foster a "global Lutheran mission movement."
At a Sept. 15-17 meeting in Montevideo, Uruguay, mission leaders from six Lutheran church bodies agreed to launch a three-year pilot project that establishes a "school without walls" for their missionaries, who would attend training sessions together at various sites, primarily in Latin America, Africa, and South Asia.
Mission data indicates that over the next 25 years, the majority of the world's Christians will live in the Southern Hemisphere, explained Rev. David Birner, associate executive director of the LCMS World Mission international mission team. "So, we were exploring that with our partners in the south, and we said, you know, if this is going to be the case, we probably should be working together now to develop a global Lutheran mission force."
That "mission force," Birner said, won't be limited by the resource constraints of any one church body, but will "give us a chance to work with the gifts that God's given to His church around the world."
Taking part in the recent meeting were leaders from the Evangelical Lutheran Church of Argentina, the Evangelical Lutheran Church of Brazil, the Evangelical Lutheran Church of the Republic of Chile, The Evangelical Lutheran Church of Paraguay, and the Lutheran Church of Uruguay.
Representing LCMS World Mission were Birner; the four international regional directors — Dr. Jorge Groh (Latin America), Rev. John Mehl (Asia), Dr. Michael Rodewald (Africa), and Rev. Brent Smith (Eurasia) — and Kama Bernabo, director of international operations.
Rev. Rony Ricardo Marquardt, general secretary of the Lutheran Church of Brazil, said it was "a good experience" to sit down with representatives of other Lutheran churches and talk about their common task of mission.
"The idea of training missionaries with the cooperation of many church bodies is a very good idea because each one of these churches can offer what they have and can receive what the other church body has," Marquardt told Reporter. "It's an interchange of the blessings that God has given to the churches in a very specific way."
Rev. Alberto Groh, a member of the mission board of the Evangelical Lutheran Church of Argentina, said the cooperative training of missionaries will help them with "one of the most important challenges" they face — "being open-minded to understand and respect other ways of thinking and living, [other] cultures, while sharing the Gospel of Jesus Christ."
That sentiment is shared by the Synod's Rodewald. "Training missionaries in a context where there are other missionaries from a different culture helps provide tools to better understand the peoples to whom they will be witnessing," Rodewald told Reporter. "Such training not only provides a foundation for witnessing to Christ in a place very different from one's home, it also shows mutual respect and prepares one for learning from others different than oneself, as we serve together in mutual mission with our partners in mission throughout the world."
Mehl believes a true "cross-cultural perspective" can only be gained outside of the United States.
"A plunge into an ethnic neighborhood of Chicago is still a U.S. experience," he said. "Paul's missionary journeys illustrate well that God's mission often happens where we are uncomfortable and not in control of the agenda."
The new missionary training, he added, will provide "a much better understanding of where they will fit in God's mission, rather than trying to get God to fit into their mission."
The three-year pilot project will include an annual two-week missionary school "that will be run jointly by all of us," said Birner.
"We know that within this next generation there are global issues that are larger than any of us — the rise of Islam, the threat of terrorism, the lack of education, poverty," he said. "So, for Lutherans to be able to address these global issues, we think we need to be working together on our training, and learning from each other."
The first training event is planned for May 18-28, 2010, in Cuidad Del Este, Paraguay, which has the "largest Muslim community in Latin America," according to Birner. Each day will include both coursework and outreach "on the street, where missionaries can practice what they've learned.
A committee representing the partner church bodies is now working on developing an international curriculum that can be applied "across language, across culture, and in any setting," Birner said.
"We'll have a multi-lingual, multi-cultural, immersion group of Lutheran missionaries who will be trained by a multi-cultural faculty and will do their training not in an institution, but in a place where there's mission opportunity."
LCMS World Mission will send each of its missionaries to the two-week U.S.-based orientation it offers now, and to three of the new training sessions, which will give them "intentional orientation experiences" in different cross-cultural settings, Birner says.
The result will be a missionary force with a "broader perspective of the scope of the body of Christ at work, and the resources that they have in their brothers and sisters in other countries to address the ministry issues that they face."
And, Birner adds, they will have "the experience of working with other Christians for a common purpose.
"I'd like to see us really become a global Lutheran mission effort so that Lutherans, wherever we are, are known as people who proclaim Christ."
Posted Oct. 6, 2009