Lutheran Social Services Disaster Response (LSSDR), based in Austin, Texas, has received a $24.3 million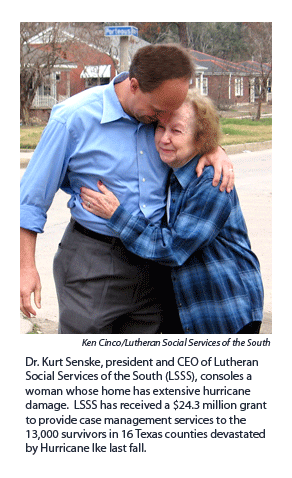 grant to provide case management services to the 13,000 survivors in 16 Texas counties devastated last September by Hurricane Ike.
LSSDR also received a $331,000 grant to train case workers for agencies in 34 counties who will be serving Ike survivors. The case management services will begin in June.
Hurricane Ike struck the Texas coast on Sept. 13, causing an estimated $24 billion in damage. The hurricane is considered the third most destructive to make landfall in the United States.
The grants were funded by the U.S. Department of Homeland Security's Federal Emergency Management Agency and administered by the Texas Health and Human Services Commission.
The LSSDR case management program is named Recovery for Ike Survivors Enterprise (RISE). In collaboration with local partner agencies, the long-term disaster case managers will help hurricane survivors assess their needs and develop recovery plans. Case managers also will advocate for clients before long-term recovery committees and other agencies.
LSSDR will build on its experience in providing case management services after Hurricane Katrina in 2005. At that time, the agency assisted 10,600 families in Texas, Louisiana, and Mississippi.
"We are humbled by the opportunity to once again provide much-needed services to disaster victims, especially those who have the least resources as they work toward rebuilding their lives," said Kurt Senske, president and CEO of Lutheran Social Services of the South, an LCMS-recognized Social Ministry Organization. "This is an excellent opportunity to take the lessons learned after Hurricane Katrina to work shoulder-to-shoulder with survivors and help them get back on their feet as quickly as possible."
LSSDR is an affiliated program of Lutheran Social Services of the South, a multi-faceted social service agency that serves more than 35,000 people annually throughout Texas and Louisiana. Programs include disaster response, foster care, international and domestic adoption, unplanned pregnancy services, post-adoption services, independent and assisted living, skilled nursing care and rehabilitation services, adult day care, geriatric care management, and emergency assistance.
Posted June 17, 2009