Concordia Seminary, St. Louis, and Concordia Theological Seminary, Fort Wayne, are beneficiaries of a $2.48 million bequest from the estate of a Texas donor. It is the largest bequest ever made to the seminaries by an individual.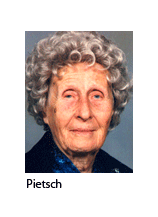 The "Andrew, Martha H. and Thelma O. Pietsch Student Aid Endowment," established by Thelma O. Pietsch in memory of her parents, Andrew and Martha Pietsch, will provide at least two tuition grants annually to support men preparing for ordained ministry in The Lutheran Church–Missouri Synod.
"Thelma's gift, like every gift to endowment, offers great hope for generations of future pastors, missionaries, and chaplains," said Dr. Dale A. Meyer, president of Concordia Seminary. "Through her estate plan, she created a fund that will continue to support seminary education long after the Lord called her to Himself. While we are not able to thank her personally for this bequest, we give thanks to God for leading Thelma to invest so generously in both of our seminaries."
Dr. Dean O. Wenthe, president of Concordia Theological Seminary, said, "The entire seminary family rejoices in the faith and support of Thelma O. Pietsch. Such support will bring blessings to the church through able and faithful pastors for generations."
Pietsch, who died in 2006 at the age of 87, was a lifelong Lutheran who operated a farm and cattle ranch in Fayette County, Texas. She never married and was close to her parents, caring for them as they aged. She taught Sunday school and sang in the choir at St. Michael Lutheran Church in Winchester, Texas, and often provided cash scholarships to local college students.
Concerned about the cost of pastoral education — and about those who do not know Jesus Christ — Pietsch left the bulk of her estate to the LCMS seminaries.
"Thelma permitted her story to be shared in the hope that others might consider how they, too, can support our future pastors," said Dr. Glen Thomas, executive director of the LCMS Board for Pastoral Education. "We give thanks to God for her and for her inspiring response to His blessings in her life."
Posted Dec. 23, 2009