By Linda C. Hoops
Two schools operated by LCMS congregations have been named "Blue Ribbon Schools" for 2009 — the highest honor that the U.S. Department of Education (USDE) gives to individual schools each year.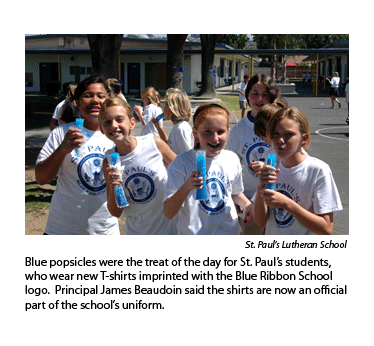 They are St. Paul's Lutheran School, Orange, Calif., and Christ Community Lutheran School, Kirkwood, Mo., a suburb of St. Louis.
Started in 1982 as part of the "No Child Left Behind" initiative, the Blue Ribbon program "honors public and private K-12 schools that are either academically superior in their states or have made dramatic gains in student achievement," according to a statement on the USDE Web site.
U.S. Secretary of Education Arne Duncan announced the names of the 314 Blue Ribbon Schools Sept. 15. Of those, 50 are private schools (the maximum number allowed), which were evaluated and endorsed by the Council for American Private Education. The primary criteria to determine eligibility for a private school is that it rank in the top 10 percent on nationally standardized academic tests.
"This award has come to represent excellent and quality schools. Only 50 non-public schools receive this award each year, so to be recognized as a Blue Ribbon School is a statement of the quality Christian education program that these schools deliver to the communities that they serve," said William Cochran, director of School Ministry with the LCMS Board for District and Congregational Services.
"Over the last several years we have had two to three schools a year that have been named Blue Ribbon Schools. It is a tribute to the excellence that Lutheran schools are able to share through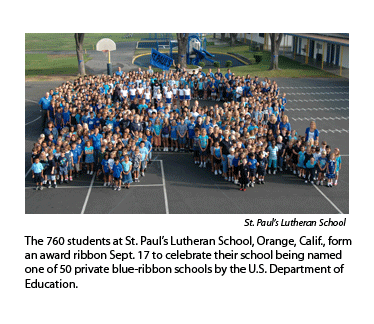 their program," Cochran added. "I am very proud of these two schools for receiving this prestigious award."
At St. Paul's Lutheran School, which has 760 students pre-school through eighth grade, the Blue Ribbon celebration featured an all-school assembly. Following an opening prayer, a "Blue Man" group — composed of Principal James Beaudoin, Assistant Principal Daniel Moyer, and kindergarten teacher Nancy Kahler — took the stage.
Following a spirited revealing of large, foam letters — B, R, and S (for Blue Ribbon School) — and a cascade of silly-string, Beaudoin announced that T-shirts with the Blue Ribbon logo were being given to all students and were declared an official part of the school's uniform. The video of the assembly is on the school's YouTube channel, accessible from its home page at www.stpaulsorange.org.
Beaudoin said the school had to demonstrate its diversity in education as part of the application process: "We have an excellent foreign language program for our students, and we're strong in technology." He also praised the students, who received blue popsicles and cross-shaped bookmarks, for their participation in music, drama, and sports, in addition to the standard curriculum.
"The Blue Ribbon award was — and is — overwhelming. The response from students, staff, congregation, and principals across the country was not expected. We celebrate with the knowledge and joy of what our Lord has provided," he said.
"This is an important day in the history of Christ Community Lutheran School" (CCLS), wrote Rob Cooksey, the school's executive director, in a press release. "CCLS is a school where excellence, innovation, and Christian community merge to create a learning environment focused on the continuous improvement of each child. This recognition is an affirmation of the outstanding faculty and team environment created when the focus is less on teaching and more on learning."
This is the second national award received by CCLS over the past year. Last year, Janet Leet, the school's elementary p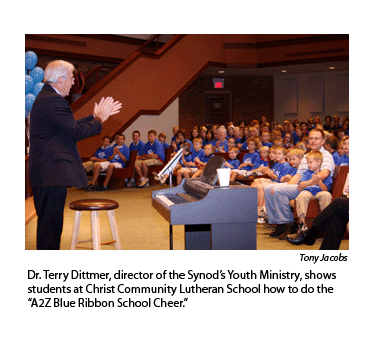 rincipal, received one of the nation's top honors in elementary and middle school education when she received the National Distinguished Principals award.
CCLS Middle School Principal Jonathan Butterfield said the 500-student school, ages 2 through eighth grade, is always striving for "continuous improvement."
"We're fortunate in that we have a lot of great families, great kids, and great teachers," he added. "With that combination, great things happen."
The middle school celebrated winning the award with blue doughnuts one day, a blueberry pancake breakfast for students and their parents the next, and distribution of blue treats and blue wristbands the third. On Sept. 21, the 500 students converged on one of its three campuses for a celebration that was covered by St. Louis media.
Each Blue Ribbon School will receive a plaque and banner during an official recognition event Nov. 3 in Washington, D.C.
For more information about the Blue Ribbon Schools program, go to the Web site of the Council for American Private Education at www.capenet.org/brs2.html.
Linda C. Hoops is a freelance writer and a member of Lutheran Church of the Resurrection, Sunset Hills, Mo.
Posted Sept. 23, 2009