Rev. Larry Vogel has accepted the call to serve as associate executive director of the LCMS Commission on Theology and Church Relations (CTCR).
Vogel has served as pastor of Martin Luther Chapel in Pennsauken, N.J., for the past 18 years. He has authored articles, sermons, and book reviews published in journals of both LCMS seminaries and other theological publications. Vogel has been second vice president of the English District since 2000.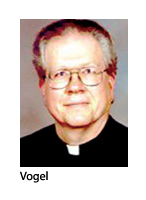 The CTCR extended the call to Vogel after interviewing candidates during its December meeting.
"Pastor Vogel's many years of experience as a parish pastor in diverse settings, his leadership in the English District, and his proven abilities as a theological thinker, speaker, and writer have earned him respect through the Synod and make him uniquely qualified to serve the church in this way," commented Dr. Joel Lehenbauer, CTCR executive director.
A 1975 graduate of Concordia University, Seward, Vogel served two years as a called worker-priest and a public school teacher-principal at the Lakota Sioux Reservation in Spring Creek, S.D., before enrolling at Concordia Seminary, St. Louis. His first call was as a missionary-at-large in southeast Queens, N.Y., and as pastor of English Lutheran Church of the Redeemer, where he served nine years. He has served Martin Luther Chapel since 1990.
In announcing Vogel's decision, Lehenbauer said, "I have been deeply impressed by his love for the Lord and His people, by his integrity, churchmanship, and pastoral heart, and by the seriousness with which he has wrestled with this difficult decision about where and how the Lord would have him serve His church in the days and years to come."
With the call to Vogel, the CTCR begins replenishing its staff. Dr. Jerald Joersz retired last winter and Dr. Samuel Nafzger left the executive director position last summer to become director of Church Relations-assistant to the LCMS president. Lehenbauer, a member of the staff since 1991, began serving as executive director in July.
Vogel will continue to serve Martin Luther Chapel through Easter and will be installed during the April 23-25 CTCR meeting.
Posted February 5, 2009