Registration is open to young adults (post-high-school age through their 30s) for a May 31-June 5 Servant Event to help Gulf Coast residents recover fro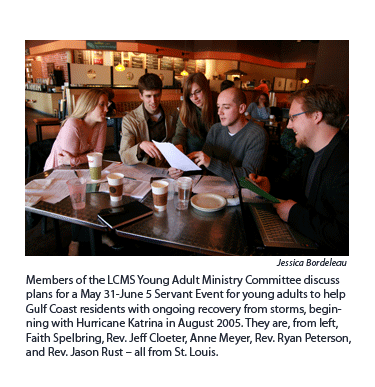 m storms that have devastated their property, beginning with Hurricane Katrina in late August of 2005.

Hosted by the LCMS Young Adult Ministry Committee and based at Camp Restore in New Orleans, the "LEAD Young Adult Servant Event" will include two and half days of hands-on assistance for hurricane survivors served by that camp, and one and a half days of leadership training through LINC New Orleans.

Camp Restore — a ministry of the LCMS Southern District — equips and houses volunteers for rebuilding hurricane-ravaged homes, churches, and schools. LINC New Orleans is described on its Web site as "a network of missional leaders that are catalysts for justice and empowerment that build stronger New Orleans communities — block by block, one neighborhood at a time."

The Servant Event also will feature Bible study led by Rev. Ryan Peterson of St. Louis, a member of the Young Adult Ministry Committee; and opportunities to tour New Orleans, including areas affected by the hurricanes, as well as the French Quarter.

Jessica Bordeleau, coordinator for the committee and a member of the Synod's Youth Ministry staff, told Reporter that the leadership-training component of the Servant Event aims to "empower young adults to lead in their home congregations and make a difference in their communities." She said the Servant Event "promises to provide a rich opportunity for growth and service."

A $275 registration fee covers housing, meals, program costs, and local transportation (including airport shuttle service).

To register for the LEAD Young Adult Servant Event, go to www.lcms.org/youth, click on "Young Adult Servant Event," and then on the link for the online registration form.

For more information, e-mail Bordeleau at jessica.bordeleau@lcms.org.
Posted April 15, 2009