HOUSTON—Looking to future conventions, the 64th Regular Convention of The Lutheran Church—Missouri Synod adopted revised procedures for making reports and overtures, appointing floor committees, distributing advance materials and selecting convention dates and locations.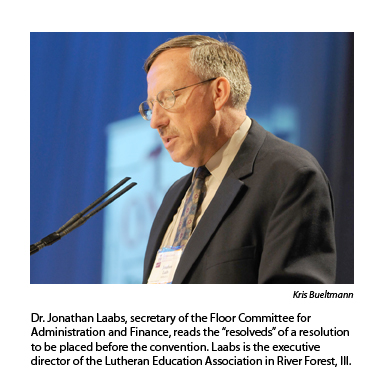 The procedures, which involve bylaw changes, were presented by Floor Committee 4, Administration and Finance, and approved July 15. The current convention is meeting through July 17 at the George R. Brown Convention Center under the theme "ONE People–Forgiven." Approximately 3,000 persons are attending, including some 1,200 clergy and lay voting delegates.
Resolution 4-07, "to amend bylaws regarding convention preparation," sets earlier deadlines for many steps leading up to the convention. For example, the deadline for submitting reports and overtures will be 20 weeks, instead of 18 weeks, prior the convention. Other changes will add the Synod's website as a means for distributing the Convention Workbook, nominating candidates for elected offices and posting biographies of candidates. The resolution was approved by a 92 percent majority.
Resolution 4-08, "to improve procedure for establishing Synod convention times and locations," changes bylaws to place the responsibility for selecting convention dates with the President, in consultation with the convention manager. Site selection is placed with the Board of Directors, in consultation with the convention manager, and "giving preference to St. Louis when logistically and economically feasible." The changes replace a bylaw that called on the Synod convention to set the time of the next convention. The changes were approved by 84 percent of the delegates.
As revised , the bylaws allow a district to submit an invitation to host a convention provided that it agrees to supply any needed local support.
Posted July 15, 2010