Concordia Publishing House has produced two books in Spanish that are designed to help parents discuss sexual topics with their children.
Created by CPH's Multilingual Department, Editorial Concordia, bot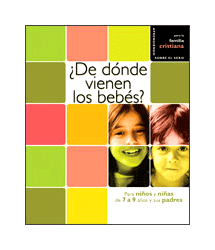 h books — Como estás cambiando (How You Are Changing) and ¿De dónde viene los bebés? (Where Do Babies Come From?) — use age-appropriate language and are designed to help children understand God's gift of sexuality.
Como estás cambiando ($12.99, item no. 166322WEB) explains the physical and emotional changes that occur in preteens, and ¿De dónde viene los bebés? ($12.99, item no. 166321WEB) helps children understand how a new baby develops. Both are adapted specifically for Spanish-speaking people from the current English "Learning About Sex" series of books.
To order, call 800-325-3040 or visit the CPH Web site at www.cph.org (use the promotional code HSE to receive a 20 percent discount). Prices quoted do not include shipping charges.
Posted April 21, 2010