HOUSTON—Convention delegates today addressed the financial needs of The Lutheran Church—Missouri Synod, including a call for a "stewardship renaissance."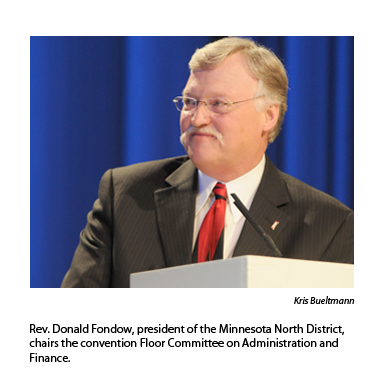 In a session Tuesday morning to consider resolutions from the Floor Committee on Administration and Finance, the convention also adopted a bylaw change so that future conventions will elect members of the Synod's Board of Directors on a separate ballot before electing members of other boards and commissions.
The 64th Regular Convention of The Lutheran Church—Missouri Synod is meeting July 10-17 at the George R. Brown Convention Center under the theme "ONE People—Forgiven." Among the approximately 3,000 participants are some 1,200 clergy and lay voting delegates.
The call for a "stewardship renaissance" came with adoption of Resolution 4-01A, which encouraged congregations to search the Scriptures for stewardship examples and to study "biblically based and Gospel-centered principles." It also resolved that the Synod and its districts promote biblical principles with emphasis on gratitude for God's gifts, the need of their neighbor, and trust that God will provide their needs. It calls on the 35 LCMS district presidents to lead their districts in the "stewardship renaissance."
A "stewardship renaissance" was first proposed to the 2007 convention by the Blue Ribbon Task Force for Funding the Mission. This convention adopted a resolution (Res. 4-02) that each recommendation for increasing unrestricted revenues from that task force be placed on the agenda of the Board of Directors for disposition by the 2013 convention. That action also directed the Board to evaluate all assets, "taking action to ensure that they are being used effectively . . . or to make recommendations to the next convention for their appropriate use."
Resolution 4-02 was adopted by an 88 percent majority of the delegates.
Delegates also adopted a resolution (Res. 4-03) requesting that each November the vice-president—finance/treasurer use widely available means, including the official periodicals, to state the Synod's financial position in an easily understood format. The resolution was adopted by a 97 percent majority.
The bylaw changing the process for electing the Board of Directors (Res. 4-05) became effective with this convention. It will allow unsuccessful candidates for the Board to stand for elective positions on other boards and commissions. Previously, the Board of Directors slate was grouped on the same ballot with other boards and commissions.

The bylaw change also altered a previous requirement that the Board could have only one member from any one of the 35 LCMS districts. As revised, no more than one person from three categories of Board members — ordained ministers, commissioned ministers and laypersons — may be from one district, and no more than two members may be elected from any one district. The change was adopted by an 827 to 230 vote.
Posted July 13, 2010