Dr. Michael J. Stelmachowicz, who served more than 40 years as an LCMS educator and education executive, died in his sleep Dec. 30 at a retirement home in Wauwatosa, W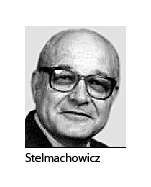 is. He was 82.
A funeral service was held Jan. 6 at St. Paul Lutheran Church, Austin, Texas, where he had served as assistant pastor after his retirement — from 1992 to 2006.
Dr. Stelmachowicz was executive director of the Synod's Board for Higher Education from 1984 to 1991.
He also served as president of two LCMS colleges: St. John's College, Winfield, Kan. (which closed in 1986), from 1973 to 1978, and Concordia College, Seward, Neb. (now Concordia University Nebraska), 1978-84.
Dr. Stelmachowicz was superintendent of the Lutheran High School Association of Greater Detroit from 1968 to 1973; taught at Concordia, Seward, from 1961 to 1968 (while there, he also served as director of placement and dean of students); served as principal at Lutheran High School South, St. Louis (1957-61); and taught at Holy Cross Lutheran School, St. Louis (1950-54).
During his career, he served on numerous boards and commissions, including the Lutheran Educational Conference of North America and the Synod's Board of Youth Ministry and Commission on Theology and Church Relations. He was appointed by the Lutheran University of Brazil as ambassador to North America, and helped start Concordia Academy, the Lutheran high school in Austin.
He is a 1950 graduate of Concordia, Seward, and graduated in 1957 from Concordia Seminary, St. Louis. He earned his doctorate in education administration in 1966 from the University of Nebraska, Lincoln.
Dr. Stelmachowicz is survived by five children — all educators: Candyce (Bryan) Seider of Milwaukee; Cheryl (Roland) Wawrzyniak of Austin; Cary (Carla) Stelmachowicz of Jackson, Wis.; Crystal (Michael) Welter of Jackson, Wis.; and Corrie (Daniel) Klatt of Kansas City, Kan. His wife, Betty, died in 2003.
Corrie Klatt, a teacher at Calvary Lutheran School in Kansas City, Mo., said her dad "had both a passion and a gift for Lutheran education" and influenced her decision to become a teacher. She and her four siblings all went to Lutheran schools — from elementary school through college — and all 16 of their children are doing the same.
She recalled watching the movie "It's a Wonderful Life" with her dad when she was in about fifth grade.
"As the movie climaxes and Jimmy Stewart's character, George Bailey, realizes how much his life influenced and touched others, my dad said to me, 'Corrie, this movie has so much more meaning when you are a Christian. As a Christian, the Holy Spirit can use you to touch so many people in so many ways, and you may never know how you helped someone.'
"He went on and told me, 'So, as you go about life and growing up, never forget that God is always using you to do His work.' I have never forgotten!
"As more and more people send their condolences, messages, and prayers, I am comforted as I see how God used my father to do His work," Klatt said. "As I reread their heartfelt messages, it is clear to me that my dad really did have a wonderful life!"
Dr. Mark S. Nuckols, senior pastor of St. Paul, Austin, called Dr. Stelmachowicz "a very gifted man," one "whose attributes as a seasoned veteran of the cross gave him such rich insights into the eternality of the church.
"He was very realistic about the church, but very positive, seeing her for what she is, the bride of Christ," Nuckols told Reporter. "His involvement with so many of the educational institutions of our Synod allowed him to rub shoulders with an accurate cross-cut of our church body and her idiosyncrasies, begetting such realism about her, and yet such conviction of Christ's promises concerning her. I have been privileged to have served with him and to have communed with him as my brother and father in the faith."
Memorials may be made to Concordia Academy, Austin; Living Word Lutheran High School, Jackson, Wis.; Kansas City Lutheran High School; any school in the LCMS Concordia University System; "The Lutheran Hour"; and St. Paul Lutheran Church and School, Austin.
Posted Jan. 13, 2010