Dr. Quentin F. Wesselschmidt, former professor at Concordia Seminary, St. Louis, and chairman of the editorial committee for Concordia Journal for 25 years, died May 12 "peacefully in his sleep," according to his family.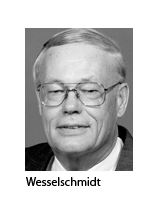 A memorial service for Dr. Wesselschmidt, 73, was held May 18 at the seminary's Chapel of St. Timothy and St. Titus.
"Quentin was a faithful servant of Christ and a fine colleague," said Dr. James Voelz, dean of the faculty at Concordia Seminary. "His knowledge of the early church fathers was massive, and his service to the seminary and to world Lutheranism through a quarter century of editorial leadership of the Concordia Journal was exemplary. We will miss him."
Dr. Wesselschmidt taught historical theology at the seminary, beginning in 1977, and served 14 years as chairman of the department.
In addition to his teaching expertise, Dr. Wesselschmidt guided and oversaw the production of Concordia Journal as chairman of its editorial committee for 25 years. He retired from the seminary in 2009.
"With Dr. Wesselschmidt at the helm, Concordia Journal published more than 400 articles and 1,200 book reviews — a grand total in excess of 10,000 pages," according to a seminary news release. "He exercised this leadership with competence, consistent diligence, Christian humility, attention to detail, and cordial collegiality."
Dr. Wesselschmidt was a 1963 graduate of Concordia Seminary, and earned a master's from Marquette University and a doctorate in philosophy from the University of Iowa.
His educational service included teaching at the former Concordia College, Milwaukee (now Concordia University Wisconsin, Mequon); Milwaukee Lutheran High School; the University of Iowa; and the University of Wisconsin, Milwaukee. He also served as pastor of Our Savior Lutheran Church in Hillsboro, Ill.
Survivors include his wife, Susan, and a brother, Raenhard (Norma) Wesselschmidt of Washington, Mo.
Posted May 19, 2010