By James Heine
In addition to his regular duties as Synod president, Rev. Matthew C. Harrison has accepted a call to serve as an assistant pastor at Village Lutheran Church, Ladue, Mo.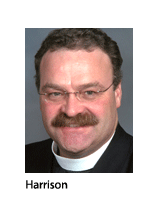 Harrison informed the Synod's district presidents of his decision in a Dec. 19 statement, noting that earlier in the day he had informed the pastor, elders and members of Village Lutheran that he had accepted the congregation's call to serve as their assistant pastor.
The Constitution and Bylaws of the Synod allow a president of the Synod to be called as an assistant pastor, "provided such services do not interfere with his official duties as president" (Bylaw 3.3.1).
In accepting the call, Harrison said he is reviving a longstanding tradition of a Synod president also having a called position at a congregation. It "seemed to me a very good thing to do," he told Reporter.
Harrison said his call involves occasional preaching and limited visitation. He will receive no compensation and have no administrative responsibilities.
The call will be a blessing for his family also, Harrison said in his statement to district presidents. It will allow his family "to be cared for by a group of Christians in a way that would otherwise not occur," he wrote.
While his clear priority is to serve as Synod president, "I enjoy preaching," Harrison told Reporter. "I need to have travel that is reasonable, because I have two boys to take care of at home. And so, being at home and having them occasionally hear me preach will be a very great blessing for me and my family."
The prospect of making hospital calls or visiting shut-ins is also something that he finds uplifting and "a great benefit," Harrison said.
With respect to district presidents, Harrison acknowledged that not all have the same freedom as that which is extended to him by the Constitution and Bylaws of the Synod. He noted that their district constitutions and respective situations may have a different effect on their circumstances. Harrison wrote that he will guard each district president's freedom, right and responsibility to act as the district president and his district believe best.
"I'm not making some kind of statement on the Synod's position on the doctrine of the ministry," he told Reporter. "I just believe this is the right fit for the congregation and for me and my family, and I think it's a very healthy thing also for the Synod."
Dr. Kevin Golden is pastor of Village Lutheran. The congregation has about 200 baptized members. Weekly worship attendance is about 100. As a small congregation, Village Lutheran fits the profile of many congregations in the Synod, Harrison said.
"Pastor Harrison's acceptance of the call to serve as Village's assistant pastor is a blessing all around," said Golden. "He brings to the congregation the blessings of a pastor's head and heart and the added blessing of a wonderful family. We pray for Christ's blessing upon his service at Village and that we might be a blessing to him and his family."
Harrison told Reporter that his installation at Village Lutheran will be low-key. The date has not been determined, he added.
"As a pastor, you are invited into people's lives in extraordinary ways — both at their high points and at their absolute worst moments. To comfort and to share in their joy is a profound honor."
Dr. Larry Stoterau, chairman of the LCMS Council of Presidents, said Harrison "shared with us the background of his call to Village, Ladue, and his desire to accept it.
"On behalf of the council, we pray for God's blessings upon President Harrison and his service to the congregation, as well as upon all of his work for the Synod."
To read Harrison's full statement to the district presidents, click here.
Posted Dec. 22, 2010