"Words of Life from the Cross," the new Lent-Easter worship and preaching resource from Concordia Publishing House, invites the entire congregation to study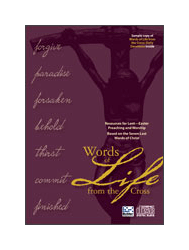 Jesus' final words on the cross as He offered up His life for the life of the world.
The new resource is designed for use beginning on Ash Wednesday, Feb. 17, through Easter Sunday on April 4.
The CD-ROM for pastors ($34.99, item no. 155139WEB) includes 10 sermons for six midweek services plus Maundy Thursday, Good Friday, Easter Vigil, and Easter Day; seven Bible studies (six midweek, plus Easter); nine children's messages; worship resources for Lent, Holy Week, and Easter; files for personal adaptation; and a Congregational Reading Resource.
Also available are:
"Words of Life from the Cross: Daily Devotions" ($2.29, or $1 each with orders of 25 or more, item no. 124346WEB).
"Words of Life from the Cross" standard Lent bulletin ($8.25 for 100, item no. 840936WEB).
For more information or to order, contact CPH at 800-325-3040 or www.cph.org/lent.
Posted Feb. 10, 2010