Dr. Richard W. Hillert, a retired professor at Concordia University Chicago (CUC), in River Forest, Ill., and prolific composer whose works include "This Is the Feast," died Feb. 18 at his home in Melrose Park, Ill., of complications from a stroke suff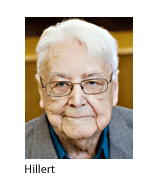 ered last August. He was 86.
The funeral service was March 1 at Grace Lutheran Church, River Forest, an independent Lutheran congregation.
Dr. Hillert was Distinguished Professor of Music Emeritus at CUC, where he was a professor of music from 1959 until retiring in 1993. He also previously served as teacher and director of music for Lutheran congregations in Missouri and Wisconsin.
He composed "Setting One for Holy Communion" for Lutheran Book of Worship (1978), which became "Divine Service, Setting One" in the Synod's Lutheran Service Book (2006). Those settings include his canticle "Worthy Is Christ," better known as "This Is the Feast," which appears in more than 30 worship books of various denominations.
An "In memoriam" page on Concordia Publishing House's Web site notes that Dr. Hillert's "vast catalog of musical compositions includes songs, piano pieces, organ works, chamber, orchestral, cantatas, concertos, and choral pieces," and that he wrote many articles on church music.
He served on the Inter-Lutheran Commission on Worship and was music editor for Worship Supplement (1969) and Lutheran Book of Worship. He also was assistant editor of Church Music magazine (1966-80) and editor of volumes 30-42 of the Concordia Hymn Prelude Series.
A 1951 graduate of Concordia Teachers College (now CUC), he received the Master of Music (1955) and Doctor of Music (1968) degrees in composition from Northwestern University, Evanston, Ill.
Dr. Hilllert is survived by his wife, Gloria, of Melrose Park; three children — Kathryn (Mark) Brewer of Oak Park, Ill.; Jonathan Hillert of Houston; and Virginia Hillert of River Grove, Ill. — and five grandchildren.
Posted Feb. 24, 2010