Katie Stam, "Miss America 2009," is scheduled to be the Friday evening inspirational speaker at the next n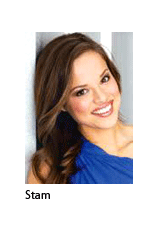 ational convention of the Lutheran Women's Missionary League, June 23-26, 2011, in Peoria, Ill.
Stam also will be profiled in the Fall 2010 Lutheran Woman's Quarterly, and the LWML is inviting people to help choose between two possible cover shots of the former Miss America (shown with this story). To cast your vote, visit the LWML Web site at www.lwml.org before July 1.
Stam is a member of Immanuel Lutheran Church in Seymour, Ind., and is completing a degree in communications from the University of Indianapolis. She plans to pursue a career in television broadcasting, and will soon release her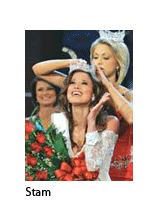 first children's book.
Crowned as "Miss America" in January 2009, Stam promoted community service and involvement during her one-year reign, working with non-profit organizations and sharing her message of volunteerism with students nationwide.
She also dedicated her year of service to honoring men and women in uniform and was the first Miss America in more than 30 years to visit American soldiers in Germany.
"The LWML is privileged that Katie has agreed to speak at the LWML convention in Peoria," said LWML President Janice Wendorf. "She is certainly a dynamic Lutheran woman in mission!"
Posted May 19, 2010