Registration is now open for the Third Biennial Conference of the Women's Leadership Institute (WLI), located on the campus of Concordia University Wisconsin, Mequon.
The conference, scheduled for April 16-18 at the Clarion Hotel and Conference Center in Milwaukee, will explore various aspects of communication under the theme "Listening, Linking, Leading: From Words to Action." The theme is based on Ex. 4:12: "Now go. I will help you speak and I will teach you what to say."
Keynote speaker will be Dr. Jean Garton, founder of Lutherans For Life and now an author and lecturer on education, the family, life concerns, and Christian l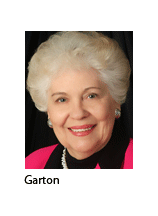 ife. Garton, who currently serves on the LCMS Commission on Theology and Church Relations and the Synod's Board for Human Care Ministries, will address "Words, Thoughts, and Deeds: Live the Faith, Share the Story."
Other plenary speakers will be Dr. Bernard Bull, assistant professor of education, director of the M.S. in Education — Educational Technology Program, and director of the Instructional Design Center at Concordia University Wisconsin, and Dr. Carol McDaniel, a senior staff member of Bethany Lutheran Church in Long Beach, Calif., and director of the parish music program at Concordia University, Irvine, Calif.
Karen Lippert, director of Women's Ministry at Divine Redeemer Lutheran Church in Hartland, Wis., will lead Bible studies, and Dr. Patrick Ferry, president of Concordia, Mequon, will lead the Sunday worship.
In addition, 15 workshops will explore a variety of topics on leadership and communication.
As a new feature for 2010, pre-conference "schools" for in-depth, personalized training in speaking and writing, also will be available. The Speakers and Writers Schools, under the leadership of Dr. Ruth Koch and Dr. Jane Fryar, respectively, will take place April 13-16 at the conference site. Koch is a mental health educator and author, speaker, and consultant. Fryar is a writer, editor, speaker, and consultant.
Full conference registration is $140, or $100 for students, by March 15. After that date, it will be $180 and $130, respectively. Single-day registrations also are available.
Registration for each of the pre-conference Speakers and Writers Schools is $135 by March 15, or $175 after that date.
For more information, visit the WLI Web site at www.wlicuw.org and click on "2010 Leadership Conference." Or, contact Registrar Bonnie Treloar at 262-243-4422 or bonnie.treloar@cuw.edu.
Posted Feb. 24, 2010