Lutheran Church Extension Fund (LCEF) will host its third school branding webinar at 4:30 p.m. (CT) on May 5. The webinar series is part of LCEF's Project School Zone program that supports Lutheran school marketing and publicity.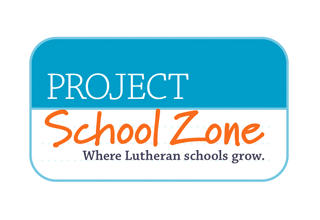 Titled "Get on the Band Wagon: Build an Internal Culture that Works," the May 5 webinar will stream live at the Project School Zone channel on UStream at www.ustream.tv/channel/project-school-zone-live.
"We've heard that many principals have been gathering together groups of staff and leaders to watch these webinars," said Tim Voss, who oversees Project School Zone at LCEF.
Voss added that the May 5 program "is really well suited" for school internal teams to watch. He encouraged school administrators to "invite board members and faculty to tune in, and then discuss the ideas after the program."
The webinar will feature a panel of Lutheran leaders including Dana Murray, admissions counselor for Trinity Lutheran School, Burr Ridge, Ill., Dr. Rebecca Schmidt, principal of Immanuel Lutheran School, St. Charles, Mo.; Rick Johnson, president and CEO of Creative Communications for the Parish, Fenton, Mo.; and Glenn Mahnken, LCEF's senior vice president of marketing and board president of Lutheran High School of St. Charles County, in St. Peters, Mo.
"Each panelist will address the importance of establishing and nurturing a strong school culture – a key factor in the overall success of school marketing and branding activities," according to an LCEF news release about the webinar.
"If every component of the school doesn't match the great brochure, website or yard signs that you've used around your community to attract new and current families to your school," Voss explained, "your efforts are wasted. For Lutheran schools, our internal culture reflects our Christ-centered focus and every single person – from front office staff to principals and teachers, to parents, and even board members – [has] an important contribution to make in sharing that mission core."
Those interested in viewing the webinar should register online at http://schoolzone.eventbrite.com to receive event updates and complete program details. Online viewers can post questions via a chat feed at the UStream website (www.ustream.tv/channel/project-school-zone-live) and comment via Twitter and Facebook.
The webinar also is open to those who would like to attend it at Zion Lutheran School, 3866 Harvester Road, St. Charles, Mo 63304. Maps and other details are available at http://schoolzone.eventbrite.com.
For more information, contact Voss by email at tim.voss@lcef.org or call him at 800-854-4004, ext. 6358.
Posted April 28, 2011