To celebrate the 130th anniversary of the Synod's official periodical, The Lutheran Witness, Concordia Publishing House — responsible for production, printing a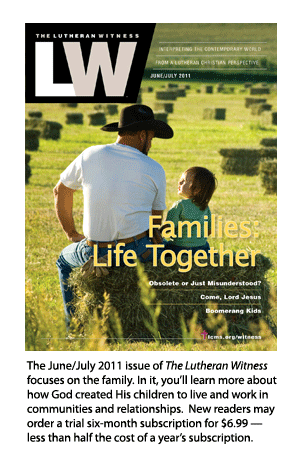 nd distribution of the magazine — is offering new readers a reduced subscription price.
The magazine, founded in 1882, currently reaches more than 180,000 households worldwide. While a regular one-year, 11-issue subscription to the magazine costs $22, interested first-time subscribers now can receive a six-month trial subscription for only $6.99. (For first-time international subscriptions, standard charges for international postage will be added.)
"The Lutheran Witness' entire thrust is authentic Lutheranism," said LCMS President Dr. Matthew C. Harrison. "There is no clearer presentation of the Gospel by any denominational magazine. It's packed with great information, faith-building articles, and stories and information on the place of our church body in the broader world."
Robert Sexton, marketing manager for periodicals at CPH, said the publisher feels "very strongly that it will only take a few issues to convince people that the newly redesigned Lutheran Witness will be well worth signing up for a longer term after their trial subscription ends."
To order a trial subscription or for more information, call 800-325-3040 before Sept. 30 and mention the promotional code "MAY699." Those who are interested in yearlong or bulk subscriptions also may use that phone number for assistance.
Posted May 19, 2011