By Adriane Dorr
"It is a great joy to look forward to the future," said the Rev. Dr. Lawrence R. Rast Jr., following his installation as the 16th president of Concordia Theological Seminary, Fort Wayne, Ind., on Sept. 11.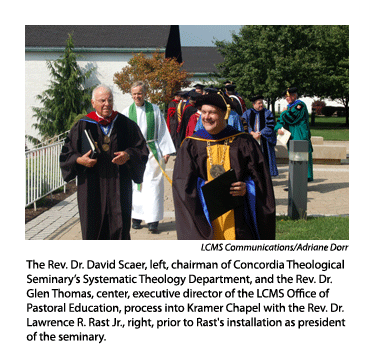 The seminary's faculty, staff and students echoed that theme throughout the day, along with more than 30 LCMS pastors who attended the installation, one LCMS chaplain on furlough from Afghanistan, the seminary's Board of Regents and LCMS President Rev. Dr. Matthew C. Harrison.
Rast was one of eight nominees for seminary president following the Rev. Dr. Dean O. Wenthe's announcement of retirement earlier this year. Wenthe had served as president since 1996.
Rast received his B.A. from Concordia College (now Concordia University Chicago), River Forest, Ill.; his M.Div. and S.T.M. from Concordia Theological Seminary; and his Ph.D. from Vanderbilt University, Nashville, Tenn.
He served as pastor of Ascension Lutheran Church, Madison, Tenn., before receiving a call to the seminary in 1996 where he has since worked in a variety of capacities, most notably as a professor of American Christianity and American Lutheranism and as academic dean.
Rast also has been a member of the LCMS Commission on Theology and Church Relations since 2006, and has served as its chairma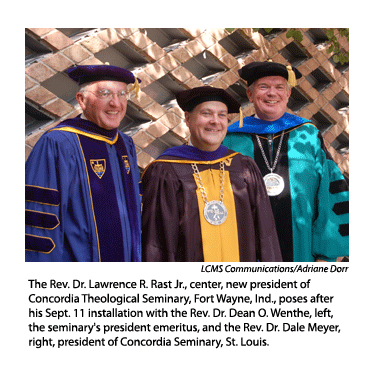 n since 2010.
Harrison, who preached at the installation, noted that Rast's scholarly abilities as a historian will be much needed in his newest role, that of seminary president.
"Historians know the facts. They know that we have a concrete Gospel and a concrete Christ," Harrison said. "That is why every morning, I pray. I pray for Larry, for Dale [Meyer, president of Concordia Seminary, St. Louis], for Concordia Theological Seminary, for Concordia Seminary, that the Lord of the harvest would send workers. And He shall. It's a fact."
In conjunction with the installation, Concordia Theological Seminary (CTS) also celebrated the beginning of its 166th academic year, welcoming new M.Div., deaconess, M.A., S.T.M. and Ph.D. students.
First-year M. Div. student James Hopkins of Alexandria, Va., expressed the excitement of the students, saying, "As a first-year student, it's a wonderful opportunity and a great blessing to take part in Dr. Rast's installation as president. It allows us students to feel like we're starting on this journey with him."
Words of encouragement
Many LCMS officials and CTS faculty members offered well wishes and words of wisdom to the newly-elected president, speaking highly of both his pastoral care and historical knowledge.
"Larry Rast brings a vigorous theological insight as well as a wealth of administrative experience and ability," said Harrison. "He can count on our total support. Let's all rally to his side with daily prayers. 'Pray the Lord of the harvest send workers into the harvest' (Matt. 9:38)."
The Rev. Dr. Scott Murray, fifth vice-president of the LCMS, sees a bright future for the seminary. "It's an exciting day here at CTS," he said. "The team is here, it's ready to get started, and it's able to carry on the work of sharing the Gospel in a winsome and beautiful way to a world in such desperate need."
The Rev. Dr. Dale Meyer spoke of his own experience as president of CTS' sister seminary in St. Louis, encouraging Rast to pray, both for himself and for CTS.
"St. Paul says 'pray without ceasing,' and you will soon realize that as president," Meyer said. "For 24 hours a day, seven days a week, your concern will be for the future well-being of this institution."
Rast's vicarage supervisor, the Rev. Philip Meyer, acknowledged the new president's administrative abilities and theological acumen.
"CTS has a talented and dedicated leader, a scholar, as president," he said. "The seminary remains in good hands."
The seminary's Board of Regents also pledged its support to the new president. Speaking on behalf of the board, Chairman Rev. Wayne Graumann told Rast, "We live in a time of opportunity in the church. You have the opportunity to train servants of Christ who will bring Christ to the people. As you lead the faculty and staff, encourage them with that hope of the Gospel of Christ."
Forming servants in Jesus Christ
Concordia Theological Seminary's history dates back to the 1800s and to the Rev. Wilhelm Sihler — a German Lutheran pastor who emigrated to America after hearing of its need for pastors and who laid the groundwork for a seminary where men could receive solid theological training. The seminary's location varied throughout the years, but in 1976, CTS finally and officially made its home in Fort Wayne on a campus designed by award-winning architect Eero Saarinen.
In 2008, Wenthe announced renovation and construction plans for Walther Library, which are ongoing. In 2010, CTS was awarded its first 10-year accreditation from the Association of Theological Schools and the Higher Learning Commission.
"Theology is taught and lived here every day," Murray said of the seminary. "Christ crucified is at the center of everything that is thought and done and said."
Murray's observation echoes the seminary's mission statement that says the school exists to "form servants in Jesus Christ who will teach the faithful, reach the lost and care for all."
Following his installation, Rast acknowledged that the seminary, and the church at-large, are not without their difficulties and challenges. But he also believes the seminary has a hopeful future. "Times are challenging, and people don't always see the value in theological seminaries, but I am convinced of that value."
Rast added that he sees "bright days ahead. There are opportunities in the midst of challenges, because in the end, this place is about Christ. His promise is firm, certain: I will never leave you."
Rast also asked for "prayers for this institution. God is faithful. And I look forward to the adventure as we go through it together."
Adriane Dorr is managing editor of The Lutheran Witness.
Posted Sept. 14, 2011