With Barbara A. Below
"Repent and be baptized, every one of you, in the name of Jesus Christ for the forgiveness of your sins, and you will receive the gift of the Holy Spirit. For the promise is for you and for your children, and for all who are far off, everyone whom the Lord our God calls to Himself" (Acts 2:38-39 ESV).
The theme and logo for the 65th Regular Convention of The Lutheran Church–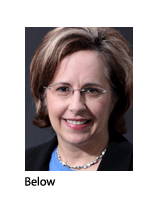 Missouri Synod next year have been selected. "Baptized for this moment" — based on Acts 2:38-39 — is the theme.
We live in a time of challenge and even greater opportunity. Those who heard Peter's proclamation were baptized in that moment, trusting the promise of the forgiveness of sins and the gift of the Holy Spirit. You and I are baptized for this moment, at this time, holding onto the same promises. That's how God works. He enters our story, just as He came into our human flesh to die and to rise for us.
We face increasing secularism, materialism, spiritual pluralism, apathy, even hostility toward a Christian message calling all people everywhere to repent (Acts 17:30ff). But despite opposition, this is a great moment for Lutheranism, a moment filled with worldwide opportunities for the Gospel.
Many around the world are looking to our Synod for faithful support and true partnership in the Gospel. Closer to home, all our communities are full of broken and hurting people, people "far off" from God who have lost hope, who need mercy and the life only Christ gives. Now is the time to confess Christ clearly and boldly for all "whom the Lord our God calls to Himself" (Acts 2:39).
We are "Baptized for this moment." Our sins are forgiven in the death and resurrection of Jesus. We have received the gift of the Holy Spirit. We can say, with Luther, "I am baptized" and k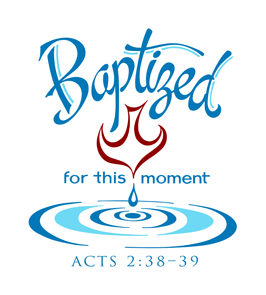 now that "all is well" and God will never forsake us (AE 6:365). In strength given by the Spirit we bear witness of Christ's victory over death. God's promises are sure. With compassion that comes from the mercy we have received in Christ, we bind up wounds and bring living hope in Jesus. Baptized into His body, we live together in love, reflecting Christ's love for us.
The 2013 Synod convention logo captures this movement out from our Baptism. By water and the Word, the Spirit of God unites us with Christ and moves us to confess His name, so that His Good News continues to ripple outward into all the world. Until Christ returns, we live by His promises and go forward as His body in the happy confidence we are "Baptized for this moment."
The logo artwork was created by Ed Luhmann, an artist retired from Concordia Publishing House who has created numerous artwork pieces for the Synod over
his career.
We encourage you to embrace this theme, study, learn more about it and consider using this theme for your congregation, school or Bible study in the
coming year.
To learn more about the 2013 convention via social media, visit www.facebook.com/LCMSConvention and www.twitter.com/LCMSConvention.
Barbara A. Below is an assistant to the Synod president.
Posted July 9, 2012 / Updated July 10, 2012