By Joe Isenhower Jr.
ORLANDO, Fla. — Former U.S. Senator Rick Santorum and Synod President Rev. Dr. Matthew C. Harrison told the 700 Lutherans gathered here Nov. 16-18 for the 2012 Lutheran Church Extension Fund (LCEF) Fall Leadership Conference that it is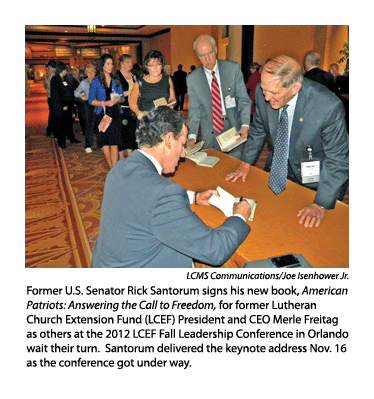 time for concerned Christians to step up acts of witness and mercy — particularly in the wake of this year's national elections.
"You are on the front lines of the work that is absolutely necessary to keep our country free, safe and prosperous," Santorum said in his Nov. 16 keynote address. He decried the "compartmentalization of faith … that we see going on in America today … that faith is somehow not to be integrated into the lives of each one of us." He also noted that America has shifted key values away from faith and families.
"What you do here is make a statement and support ministries through the Lutheran Church that do go out and proclaim the Gospel and minister to people in all aspects of their lives," Santorum said.
"Your country needs what you are doing, needs you to stand up and boldly proclaim what you believe, why you believe it, and then make sure that there are those who have the tools necessary to go out and deliver that message to a country that is badly in need of hearing the truth."
Santorum noted that this year's elections were "the most consequential … in our country's history; and unfortunately, very few people knew that, from the campaigns that were won. It was disappointing to me." But he said that he's learned through loss — of elections and even a son — "is what you all know: that God has a perfect plan and we need to have faith. Our job is not to be successful; our job is simply to be faithful."
"I know the [Missouri Synod]," he said. "I admire you. I thank God for you," Santorum told the assembly. "What you are doing in this organization is one of the few rays of hope in our country. … I feel blessed to be here at a time when our country needs us."
"Time" was the theme of this conference, based on 2 Cor. 6:2: "Now is the day of salvation."
Harrison began his conference keynote remarks the next morning, saying, "It's great to be here. It is such a joy to work with Rich and LCEF." Rich Robertson is LCEF's president and CEO.
Harrison provided an overview of challenges and opportunities facing the Synod — including the "aging" of its membership, along with recently reported declines in baptized and communicant membership. But he also spoke of a national survey across denominational lines indicating Missouri Synod youth ranked among the highest for those who share their faith and remain faithful to their churches.
Harrison said that he considers this year's elections "troubling" and that he views activities such as pulling together certain coalitions to win elections as indications of "the paganization of America. … We face a perfect storm in this."
He also mentioned reports that the Department of Justice "has elevated same-gender rights issues in its priorities above issues of religious freedom, increased reports of IRS attacks" on congregations, and the "Health and Human Ser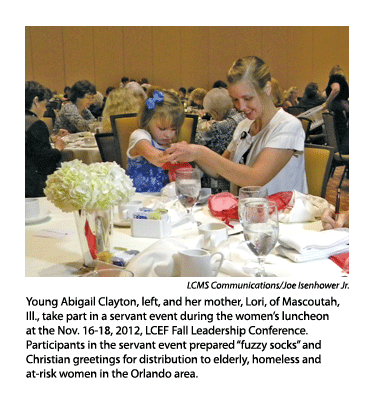 vices health-care debate."
"I would say, my friends, that we face the most sobering moment in the history of our church body," Harrison said, adding that the Scriptures call for repentance. He especially noted Peter's call in Acts 2 to repent and be baptized, and that this is the basis for the theme of the 2013 Synod convention.
Harrison recalled that it has been said that "courage is fear that says its prayers. I prefer to say that courage is fear that's been baptized."
"What's to be done?" he asked. "Repent, as the text says — all of us. … Let's bear witness, let's have mercy."
"I want to thank you all for what you do," Harrison told the LCEF audience. "You have sacred vocations. … And only you have access to the people around you, because of what the Lord has done for you and where He has put you. … He's put us together in this endeavor — Lutheran Church Extension Fund [and] The Lutheran Church–Missouri Synod."
LCEF developments
Robertson followed Harrison with his own keynote address, beginning with comments on the economic environment and LCEF's operating performance.
"While we are still reeling from a global economic recession here and overseas, compounded by the uncertainties of the political environment," he said that "loyal investors and committed borrowers have kept LCEF well able to serve" the capital needs of the LCMS and its ministries. In the fiscal year ending June 30, total LCEF assets were more than $1.8 billion, with investor payables exceeding $1.6 billion.
"Strong operating results were coupled with continued investor confidence — investors who have a heart for ministry and share part of their personal resources by investing in the LCEF," Robertson said.
To support the outreach activities of districts, LCEF distributed more than $1.6 million of its earnings to member districts and the Synod, in line with a bylaw-prescribed formula. During the LCEF annual meeting later, Robertson provided more in-depth detail about LCEF finances and business activities.
He moved the discussion from political and economic storms to "the storm that was most heart-wrenching, … Sandy, … whose impact will be felt for months and years to come." He pointed out that LCMS Disaster Response "mobilized immediately" and called for continuing donations to that Synod ministry.
Robertson said that LCEF also responds to ministries and church workers in need by providing assistance through a natural-disaster and rebuilding program. In that program, new or existing loans are offered at zero-percent interest, with no payments for 12 months and "facility redesign, repair and construction services with our architects and Laborers For Christ [with] no administrative fee."
Robertson also reminded attendees to "speak openly of our faith." He advised that instead of conducting conversations about austerity measures and home values — "things that don't matter eternally, … divert attention" to things that do matter eternally.
"Let's put aside what divides us," Robertson said, "and be a community united in purpose. Let's be confident that … He has prepared us for such a time as this."
'Good leaders equip'
Another keynote speaker at this year's conference, Mark Sanborn, is an international best-selling author and authority on leadership and customer service from Highlands Ranch, Colo.
"If I could summarize what makes any organization excellent or extraordinary," he said, "it is where they develop leaders at every level. … Good leaders equip others to lead. … Leadership is an invitation to greatness that you extend to others."
He presented six ideas for effective leadership: self-mastery; ability to create shared focus; power with people, not over people; persuasive communications; strategic execution with consistent application; and service.
"You want to know the key to great movements in the kingdom?" Sanborn asked. "You don't need a mission statement; you just need a mission. You need a why."
Other conference presenters included:
K.C. Mathews of Kansas City, Mo., executive vice-president and chief investment officer for UMB, a banking partner of LCEF. During the LCEF annual meeting, he provided his insights on today's economic realities and possible outcomes.
LCMS Florida-Georgia District President Rev. Gregory S. Walton, who preached on "Time Keeps on Slipping into the Future" at Sunday's Holy Communion service.
the Rev. Dr. Jon Diefenthaler, president emeritus of the LCMS Southeastern District, who gave a presentation titled "Living in God's Now."
Carol Barton of Wausau, Wis., guest speaker for the women's luncheon.
Christian singer/songwriter team Keith and Kristen Getty (and their band), from Nashville, Tenn., who closed out the conference by performing several hymns.
Small-group sessions addressed topics including "After 500 Years: Our Time to Shine in Wittenberg"; "Bible Study: A Time for Everything"; "It's Time to Focus on Personal Discipleship"; and "It's Time to Share Christ in Our Schools … Witness Always."
What's different?
Taking a cue from a suggestion from Sanborn, Reporter asked several participants to share by email afterward what they are doing or might do differently as a result of the 2012 conference.
"This conference came at a great time for me," wrote Tom Steinmetz, a ce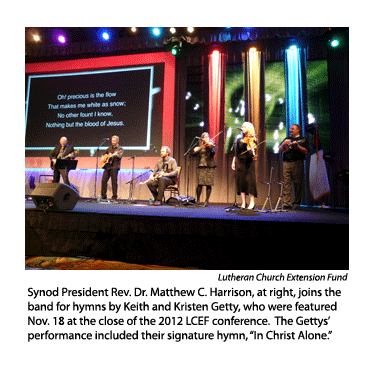 rtified financial planner who is a member of Trinity Lutheran Church and School in Indianapolis.
Attending his second LCEF fall conference — in 2012 as a voting delegate for the annual meeting — Steinmetz explained, "I have been in a little bit of a rut lately … with everything at church. The conference theme, 'Time … Now is the Day of Salvation,' emphasized how important it is for us as Christians to be and stay active in our faith. … What I am now doing differently is getting my flame back to burning bright and striving to be the light that God calls us all to be for His glory!"
Responding similarly to Steinmetz was Kermit Kuhl, a member of Hope Lutheran Church, Levittown, Pa., who indicated he has attended "18 or more" LCEF conferences and also was a voting delegate this year as a member of the Eastern District.
"You cannot recover wasted time," Kuhl commented. "Stop procrastinating and move on."
Kuhl also indicated that he considers LCEF fall conferences as "the highlight of the year" and ranked 2012's as "in the top five or six that I've attended."
Kenneth and Mary Jo Voertman, members of Redeemer by the Sea Lutheran Church in Carlsbad, Calif., also are veteran LCEF conference-goers, with memories of at least a dozen. Kenneth is a member of the Pacific Southwest District loan committee. Both were voting delegates.
Mary Jo indicated "one thing different" is that this conference spurred the couple's plan "to offer an LCEF account to all baptized children in our church."
Another married couple — Mark and Carol von Soosten of Christ Lutheran Church and School in Albuquerque, N.M., were first-time attendees and voting delegates. Mark is principal of the school. Carol is the church's office manager and serves as president of the Rocky Mountain District Lutheran Women's Missionary League.
"My 'one thing,'" Mark wrote, "would be that the conference brought home to me again what a wonderful partner in ministry LCEF is for Lutheran schools." He indicated that he plans to get "up and running again" both the church and school's participation in the LCEF K.I.D.S. Stamp program, which has been inactive since a volunteer responsible for the program moved away.
Carol wrote that she was struck by the "resounding emphasis at the conference on the immediacy of our actions … . That message hit home on several levels and I came away with a recommitment to taking action. I will be incorporating that into my work in the church, in LWML and in personal relationships."
Debbie Schkade and her mother, Alpha Siems, were at the 2012 conference — their first — to receive one of nine "Million-Dollar Congregation" Awards for their home congregation, Hope Lutheran Church in Friendswood, Texas. That award honors congregations that for the first time have reached $1 million invested with LCEF and with at least 10 percent of their members also invested.
Schkade wrote that she would be intentional about "conveying to our congregation the good work that is being done with their LCEF investments."
Awards, elections
The 2012 LCEF awards and their recipients were the following:
Fred E. Lietz Mission Project Award for outstanding efforts of mission projects associated with the Synod — to The Point in Knoxville, Tenn.
Art and Architecture Awards: St. John Lutheran Church, Cypress, Texas; Concordia University Wisconsin's Center for Environmental Stewardship, Mequon, Wis.; Trinity Green Trails Lutheran Church, Lisle, Ill.; Emmanuel Lutheran Church, Fort Wayne, Ind.; Ebeneezer Lutheran Church, Greensboro, N.C.; and Village Lutheran Church and The Chapel School, Bronxville, N.Y.
Million-Dollar Congregation Awards: St. Matthews Lutheran Church for the Deaf, Woodside, N.Y.; Living Faith Lutheran Church, Cumming, Ga.; Gloria Dei Lutheran Church, Hudson, Ohio; Gethsemane Lutheran Church, Northglenn, Colo.; Immanuel Lutheran Church, Santa Fe, N.M.; Hope Lutheran Church, Friendswood, Texas; St. John Lutheran Church, Adrian, Mich.; Trinity Lutheran Church, Davison, Mich.; and St. John's Lutheran Church, Port Hope, Mich.
Fred E. Lietz Individual Ministry Award: Dr. Thomas Murdock of Vadnais Heights, Minn.
Arthur C. Haake Leadership Award: Mary Byrd, Weeki Wachee, Fla.
Making a Real Difference Award: Steve Block, Austin, Texas.
District Awards: Oklahoma District, South Wisconsin District and Southeastern District.
During the LCEF annual meeting, delegates re-elected the following to the LCEF Board of Directors:
Carol J. Radtke of Springfield, Ill., representing the East Central Region.
Randall J. Peterson, Green Bay, Wis., North Central Region.
James Ingersoll, Orlando, Fla., South Region.
The Rev. Max A. Phillips of Woodward, Iowa, was elected to fill an LCMS member-at-large vacancy on the board, and six members of the board's nominating committee were re-elected.
The 2013 LCEF Fall Leadership Conference will be held in San Antonio in November.
Posted Dec. 19, 2012