By Kim Plummer Krull
LCMS families in Ann Arbor are among those dealing with damages after three reported tornadoes ripped through southeastern Michigan on March 15, destroying at least 100 homes, according to news accounts.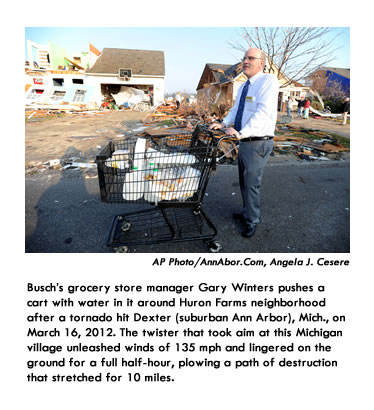 Two members of St. Paul Lutheran Church have damaged homes, according to reports from the Rev. Glenn F. Merritt, director of LCMS Disaster Response, and John Lewis, a St. Paul member and principal gifts officer for Mission Advancement of the LCMS.
The St. Paul members are "fine and waiting to assess the total damage," Lewis said in an email. Lewis' home is about a block from where the twister tore through his neighborhood.
The Rev. Larry Courson, pastor at Peace Lutheran Church, reports that the homes of about four or five Peace members have minor damage.
"Right now, [Pastor Courson] is trying to find out ways that he and his congregation might assist in the community," said the Rev. Dr. Edward O. Grimenstein, manager, LCMS Disaster Response, who spoke by phone with Courson.
Merritt asked Lewis, whose home was not damaged, to meet with pastors at both Peace and St. Paul and provided information about applying for grants from LCMS Disaster Response.
"Both churches are assessing the damage to members' homes and evaluating a response to help members and their community," Merritt said. "We are positioned to help the congregations as they respond."
No fatalities or serious injuries have been reported from the tornadoes.
To make a gift to help share Christ's mercy with families in need:
make an online donation, visit: http://www.lcms.org/givenow/tornado.

mail checks (payable to "The Lutheran Church–Missouri Synod" and noting "Tornado Disaster Relief" in the memo line) to The Lutheran Church–Missouri Synod, P.O. Box 66861, St. Louis, MO 63166-6861.

call toll-free 888-930-4438.
Any funds not needed for this relief effort will be used for other disaster purposes as determined by Lutheran ChurchÐMissouri Synod Disaster Relief. Your gift is tax-deductible to the extent permitted by law.
Kim Plummer Krull is a freelance writer and a member of St. Paul's Lutheran Church, Des Peres, Mo.
Posted March 16, 2012