By Adriane Dorr
The Rev. James Haugen — former pastor of Zion Lutheran Church, Columbia City, Ind., and current pastor of Living Water Lutheran Church, Wolf Lake, Ind. — died Thursday, July 19, 2012, as a result of injuries inflicted after accidentally being run over by a van while unloading donations at Community Harvest Food Bank in Fort Wayne, Ind.
A funeral service was held July 23 at Zion Lutheran Church in Columbia City, Ind.
Haugen started Living Water Lutheran Church as a mission, despite being retired. "He was a major player in the county and with social-service agencies," said Indiana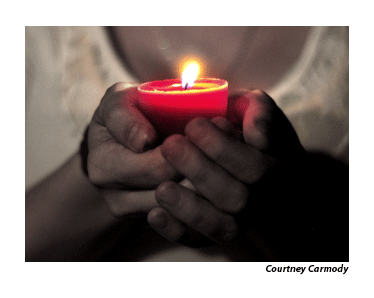 District President Rev. Dr. Daniel P. May. "He linked people with needs to services that were available." Purposeful in his work, Haugen "really developed a koinonia, a Christ community, the body of Christ in Wolf Lake," May noted.
Finding a pastor with as big a "heart for the poor and a heart for small-town ministry" as Haugen, May believes, would be hard to do. "He had an unwavering servant's heart for the poor in a very small community. Wolf Lake is about four blocks long, but he went ahead and started a mission there. Living Water is a small congregation, but they show a lot of spiritual muscle."
Haugen's family has been and will continue to be shown pastoral care by the circuit counselor, who had already spent time with Haugen's wife, Darleen, Thursday, July 19, as well as two of the Haugens' sons, who are also LCMS pastors. "This is a strong, committed, self-sufficient Christian family," May notes. "They are deeply rooted in God's Word."
Living Water is closely connected to the seminary in Fort Wayne as well. "Rev. Haugen offered a wonderful model for pastoral faithfulness and service, especially as a fieldwork supervisor for our students," said the Rev. Dr. Lawrence R. Rast, Jr., president of Concordia Theological Seminary, Fort Wayne, Ind. "We grieve with the Haugen family at his unexpected passing, but rejoice that he now enjoys the nearer presence of Christ, whose Gospel he preached and witnessed to so powerfully for so many years."
Pastoral care for the congregation at Wolf Lake will be a top priority, May says. He noted Living Waters will need a pastor who can "pick up that same saving message of the Gospel that Pastor Haugen declared so clearly, so faithfully, for so long." Also critical to carrying for the church's members is "not only the message of hope and forgiveness that we declare in Christ, but also that we continue to cultivate relationships, one-by-one, over a period of time, just as Pastor Haugen did as he helped families deal with their own challenges and crises."
While the family worked to plan the funeral service, May said the biggest challenge was "that the tiny building in Wolf Lake will never be able to hold all the people who want to be there for the Haugen family."
The Rev. James Haugen, Jr., Haugen's son and pastor of St. John Lutheran Church, Strongsville, Ohio, left a brief message on his Facebook page following the accident: "Please pray for me and my family during this difficult time," he wrote. "We know that he is resting from his labors. Blessed are those who die in the Lord."
Also among survivors is the other son who is a pastor — the Rev. Joshua A. Haugen, pastor of Ebenezer Lutheran Church, Greensboro, N.C.
Adriane Dorr is managing editor of The Lutheran Witness.
Posted July 20, 2012 / Updated July 21, 2012 / Updated July 26, 2012