By Paula Schlueter Ross
ST. LOUIS (July 25, 2013) — Delegates to the 65th Regular Convention of the LCMS this morning adopted the last of 16 resolutions presented by the floor committee on Life Together.
Approved by 97 percent of the vote was Resolution 3-10A, which asks the Synod president to appoint a task force to study the call process for returning missionaries and military chaplains as well as other rostered church workers without a call.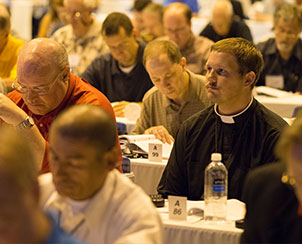 The task force — which is expected to include representatives from the Council of Presidents, the two LCMS seminaries and the 10 Concordia University System schools — is asked to report its findings at least six months prior to the 2016 Synod convention.
The resolution also asks the LCMS Office of National Mission to "continue its service" to Soldiers of the Cross — a program that provides financial assistance to professional church workers in need — and encourages Synod congregations to contribute to the program's annual fund drive.
An amendment proposed by the Rev. Christopher Amen, a voting delegate from the California-Nevada-Hawaii District, called for the Synod convention to "direct $100,000 to Soldiers of the Cross." The amendment was withdrawn after LCMS President Rev. Dr. Matthew C. Harrison, serving as convention chair, said it was unclear where those funds would come from.
Harrison added that the program's annual campaign brings in some $400,000 each spring. "At this point, we have had enough money to cover the requests," he said.
The final resolution from Floor Committee 3 — Resolution 3-14A — was adopted unanimously by voice vote. It commends Concordia Publishing House for its "process of theological review and development of relevant and accessible resources" and encourages daily family devotions and the study of God's Word.
The resolution also urges pastors, as they visit members' homes, "to inquire into the devotional life of the home, and to teach and encourage the families in their daily prayers," and asks district presidents to likewise encourage daily devotions among "pastors in their own homes" and as those pastors minister to their congregation members.
The LCMS convention opened July 20 and is expected to adjourn today, July 25, at 12:15 p.m.