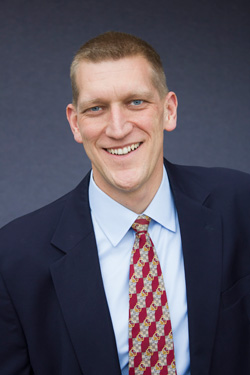 David Fiedler, executive director of LCMS General Services since November 2005, will begin serving Feb. 12 as president of The Lutheran Church–Missouri Synod Foundation.
The LCMS Foundation — based at the LCMS International Center in St. Louis — is the Synod's primary organization that offers charitable expertise and services designed to help donors and LCMS organizations plan and direct their "passion for giving" to family and all ministries of the church.
In his new position, Fiedler, 41, will oversee the Foundation's trust and investment activities, provide direction to its gift-planning and other fundraising efforts, communicate to and with the Foundation's partner organizations, and assist the Foundation Board of Trustees in establishing the overall course and direction of the Foundation.
Fiedler succeeds the Rev. Tom Ries, who began serving June 1, 2011, as president of Concordia University in St. Paul, Minn. Ries was LCMS Foundation president for seven years. Wayne Price, the Foundation's chief financial officer, has been serving as interim president.
"The LCMS Foundation, its board and staff are very pleased to welcome Mr. David Fiedler as the Foundation's new president," Price said. "Mr. Fiedler brings a wealth of experience and enthusiasm to this important position. We look forward to many years of his leadership."
Fiedler told Reporter that he is "honored" to join the Foundation as president "because of the organization's long history of service to the Church and its institutions.
"And in particular, I am excited to work with the Foundation because of its employees — dedicated servants who know their field and who work very hard in service to the Lord and His people in the LCMS," he said.
In his seven-plus years of directing General Services, Fiedler was responsible for overseeing corporate operations, including a $5 million budget, and providing business services and facility-support management for three facilities housing 550 employees.
Prior to that, he was senior manager for LCMS Human Resources for eight years. His career at the LCMS International Center began in 1995 as a development officer with the LCMS Foundation, working on behalf of LCMS World Mission.
A graduate of Washington University, St. Louis, Fiedler also holds a master's in Business Administration from Lindenwood University, St. Charles, Mo.
He is the author of numerous articles and several books, including The Enemy Among Us: POWs in Missouri during WWII (2003), a history of German and Italian prisoners of war in Missouri for which he received the Governor's Award for the Humanities.
He and his wife, Shelly, live in St. Louis and are the parents of two children. The Fiedlers are members of St. Paul's Lutheran Church in Des Peres, Mo.
To learn more about the LCMS Foundation, visit www.lcmsfoundation.org or call 800-325-7912.
Posted Jan. 30, 2013