Concordia Theological Seminary, Fort Wayne, Ind., and Lutheran Friends of the Deaf are sponsoring an intensive two-week summer institute designed to equip church interpreters to assist in proclaiming the Gospel of Jesus Christ to those who are deaf.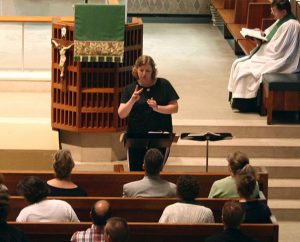 The Church Interpreter Training Institute (CITI) will be held June 15-27 at the seminary.
CITI focuses on biblical studies, American Sign Language instruction, religious vocabulary, understanding worship and liturgy, deaf culture, religious hymnody and songs, and special-interest topics.
The two-week institute is $1,500 for residential students (includes lodging and meals), or $1,000 for those who commute. A limited number of scholarships are available to Lutheran participants through the Mill Neck Foundation for Deaf Ministry. (Please complete online application at ctsfw.edu/CITI.)
For more information, visit the above website, send an email to CITI@ctsfw.edu or call the seminary at 260-452-2283.
Posted April 11, 2014