"Christian Law Enforcement Chaplaincy — Theology and Practice" will be held June 2-6 at Concordia Seminary, St. Louis.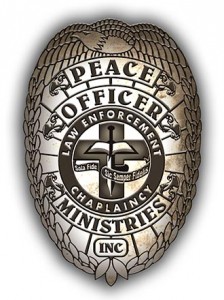 The weeklong event — co-sponsored by the seminary and Peace Officer Ministries Inc. — offers accredited training for chaplains, peace officers and pastors, focusing on "effective Christian ministry to and through law enforcement."
"Key principles" that participants can expect to take away with them after attending the conference include adopting a sound biblical theology; understanding law enforcement as vocation (God's calling); distinguishing and properly applying Law and Gospel and God's Two Kingdoms within a law-enforcement context; addressing practical, legal, historical, cultural and missiological considerations; employing Christian stress-management and officer spiritual-survival strategies; and identifying characteristics of a competent Christian chaplain.
Courses will cover a variety of topics, including: "Officer Spiritual Survival," "Critical Incident Response — A How-to Guide," "Understanding the Active Shooter for Chaplains" and "Chaplain Communication Styles and Christian Leadership." A Department of Homeland Security (DHS) course, also offered, fulfills DHS "Guidelines for First Responders."
The Rev. Frank Ruffatto, executive director and chaplain of Peace Officer Ministries (POM) and pastor of Redeemer Lutheran Church, Charleston, W.Va., will serve as the introductory speaker on Monday, June 2.
Other presenters include:
Stephanie Abernethy, widow of Houston police officer Timothy Abernethy, who was killed in the line of duty in 2008.
Michael Dahmer, a former police officer who now serves as a consultant in national security, counter-terrorism and homeland security.
Steve Gielda, vice-chairman of POM.
Chief William Jones, assistant chief of the Perryville (Mo.) Police and Fire Departments, and emergency management director for the City of Perryville.
the Rev. Steve Lee, former local and federal officer; founder of — and volunteer chaplain for — POM; and pastor of Holy Trinity Lutheran Church, Burbank, Ill.
Dr. Thomas Mijares, former Detroit Police SWAT sergeant and current professor of Criminal Justice at Texas State University, Austin.
Dr. Dave Minionis, owner of Humanetrics LLC, Professional Training and Coaching Services, and creator of the 1-to-1 Communications Model.
Chad Montgomery, a detective with the Greensboro Police Department Homicide Unit.
Steven Ruffatto, a retired detective and current assistant professor of Criminal Justice at Harrisburg Area Community College.
the Honorable Mike Sisson, former police officer and current magistrate of Kanawha County, W.Va.
Registration is $410 and includes on-campus meals, materials and CEUs. Limited on-campus housing is available on a first-come, first-served basis. Rates are $40 per night for single or couple and $25 per night for a shared room.
The deadline for registration is May 19. No walk-ins will be accepted.
For more information, contact the seminary's Office of Continuing Education and Parish Services at 314-505-7286 or ce@csl.edu. Or click here for a downloadable brochure.
Posted April 8, 2014