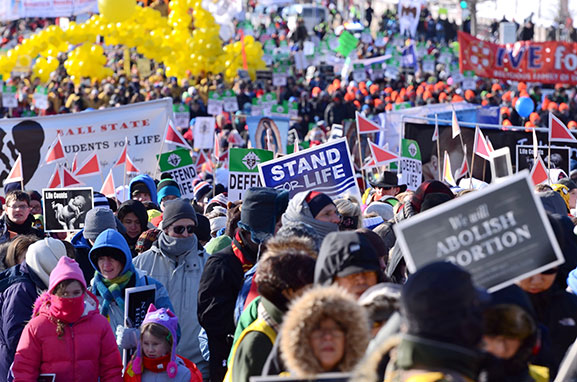 WASHINGTON, D.C. — It was bone-numbing cold. But the three-hour-long 2014 March for Life in the nation's capital was well worth it.
So said LCMS Life and Health Ministries Director Maggie Karner, shortly after dozens of LCMS Lutherans reached the ending point of the march, the steps of the U.S. Supreme Court building. The annual march, which begins at the National Mall, marks the court's Roe v. Wade decision in 1973 that legalized abortion in the United States.
More than 55 million babies have been aborted since then.
"This year's weather was brutally cold, but there were still thousands and thousands of committed pro-life advocates freezing our toes off to send a message to our nation: Abortion must stop now," Karner said after the march.
When the march began, the temperature was 15 degrees with a wind chill of minus 2.
Many LCMS participants wore bright green stocking caps. During the march, they sang hymns to keep warm.
The day began with an LCMS Divine Service of worship at Immanuel Evangelical Lutheran Church in Alexandria, Va., followed by a breakfast at the church. About 150 people attended the service, in which Pastor Christopher Esget delivered the sermon, before heading to the National Mall for the march.
LCMS members also will participate in the Walk for Life West Coast, which will be held Saturday, Jan. 25, in San Francisco.
Follow the LCMS' live coverage of the March for Life online at www.lcms.org/marchforlife, on Facebook at www.facebook.com/thelcms and www.facebook.com/lcmslife, on Twitter (#LCMSMFL) at www.twitter.com/thelcms and on Instagram at #thelcms.