Chaplain Craig G. Muehler of Springfield, Va., will succeed Chaplain Mark J. Schreiber as director of the Synod's Ministry to the Armed Forces.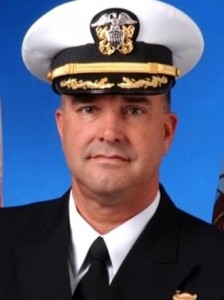 Muehler, 51, plans to retire Aug. 15 from his current position at the Pentagon where he has served since 2011 as deputy chaplain of the United States Marine Corps. He will join the Office of International Mission (OIM) staff in St. Louis on Aug. 28.
Schreiber retired May 9 after serving as director of the armed forces ministry since Oct. 1, 2004.
Serving as interim director through Aug. 27 is Chaplain Eric Erkkinen, who has been assistant director of the LCMS Ministry to the Armed Forces since 2008.
Schreiber, who was commissioned in the Navy Reserve in 1980, served on active and reserve duty for some 24 years. He is a graduate of the Marine Corps Command and Staff College, and was promoted to captain in 2003.
A 1977 graduate of Concordia Theological Seminary, Fort Wayne, Ind., Schreiber received his D.Min. degree in 1996 from Faith Evangelical Lutheran Seminary, Tacoma, Wash. He also holds degrees in psychology and German.
He told Reporter he is enjoying his retirement in Palm Coast, Fla., where he is writing a book about the experiences of LCMS chaplains since 1982, with a special focus on the Iraq and Afghanistan conflicts — a sequel to Chaplain Ernie Ernstmeyer's 1990 book They Shall Not March Alone. A lifelong pianist, Schreiber also plans to complete some already started musical compositions and try his hand at woodworking — a specialty of his father: "I'd like to see if the same gene runs in the family!" he said.
Schreiber called his successor, Muehler, "supremely suited to be the next endorsing agent for the LCMS. He has established an excellent ministry record with the Navy and Marine Corps throughout his military career — serving our soldiers, sailors, airmen and Marines faithfully with the Gospel.
"He leads with a strong pastoral heart and will give the necessary care and support to all of our chaplains, their wives and families, especially now as America seeks to leave a decade of war behind her."
Even though his tenure was marked by "difficult challenges" in Department of Defense policies toward gays in the military and gay marriage, two wars, the constant deployment of troops, issues of Post-Traumatic Stress Disorder and "the daily weight of caring for all our military families — active, reserve and National Guard," Schreiber noted that his decade of service also "created and launched Operation Barnabas," which cares for military members and their families. To date the program has started 25-plus chapters in LCMS congregations, with 50 more in process.
Another highlight was the start of a D.Min. program for chaplains at Concordia Seminary, St. Louis, which has produced three graduates with a dozen more in the program.
Still, Schreiber says his "greatest joy has been to visit our chaplains at their stations around the world and their families, to hear of the success of their Gospel-centered ministries, to pray with them, counsel with their commands and do a little 'terrain appreciation' on the side," he said. "Our chaps are second to none in the Chaplain Corps with respect to their integrity, pastoral concern, preaching ability and creative ministry. It has been my distinct honor and privilege to serve with them side by side."
OIM Executive Director Rev. Randall L. Golter told Reporter he is "deeply appreciative of Dr. Schreiber's contribution as the LCMS endorsing agent and for his strong support of our chaplains — he did outstanding work during his 10 years of service."
Golter added that when he recently attended an LCMS regional chaplains conference, he "heard from so many there of their great love for Mark's work."
Muehler, a 1988 graduate of Concordia Seminary, St. Louis, is a trained chaplain with the rank of captain and holds a master's degree in Theology in Pastoral Counseling.
His active-duty assignments have included Destroyer Squadron Thirty-One, Naval Training Center in Great Lakes, Ill.; Naval Security Group Activity, Kunia, Hawaii; U.S.S. Inchon, Ingleside, Texas; Naval Air Station, Corpus Christi, Texas; 2d Marine Logistics Group, Camp Lejeune, N.C.; 3D Marine Aircraft Wing, Miramar, Calif.; Naval Medical Center, San Diego; and 3D Marine Division, Okinawa, Japan.
His decorations include the Legion of Merit, the Defense Meritorious Service Medal, the Meritorious Service Medal (two), the Joint Service Commendation Medal, the Navy and Marine Corps Commendation Medal (two), the Navy and Marine Corps Achievement Medal (two), the Joint Meritorious Unit Award and the Air Force Outstanding Unit Commendation.
Muehler said he is "very excited about the opportunity to continue to serve our Lord and our church" in his new LCMS position. "I am humbled and honored in receiving this call to serve the men and women of our armed forces and their families in this role. They truly deserve our best effort to keep them connected with their church and ensuring they have access to the faithful proclamation of the Gospel and reception of the sacraments."
He added that he is "deeply motivated to continue the great work that has been done by our Synod in support for our military chaplains and their families. I pray that God will use me as His servant to provide pastoral care and support for all those great Americans who selflessly serve our country.
"Under Chaplain Schreiber's great leadership and the [Ministry to the Armed Forces] committee's direction, we have continued to care for all who serve, but also have given an extra push to reach out even more in Operation Barnabas.
"I covet the prayers around our Synod, as we as a church body continue to provide strong, faithful, confessional chaplains who will bring the message of Jesus Christ to this unique and challenging institution."
For information about the Synod's Ministry to the Armed Forces, click here.
Posted May 29, 2014