By Roger Drinnon
Synod disaster responders have deployed to Haiti and the Carolinas in the wake of Hurricane Matthew to assess and broaden aid to victims, as they see the tragic effects of the hurricane first-hand.
LCMS Disaster Response Director Ross Johnson left St. Louis for Haiti on Oct. 10, as an outbreak of cholera has exacerbated recovery efforts there.
"We're currently working to provide as many as 10 wells for clean water and also to provide tin roofs for some 50 area pastors and possibly 50 churches without roofs [in Haiti]," said Johnson. "We do all of this in the name of Christ. Compassionate spiritual care provided in His name — a hallmark of all LCMS World Relief and Human Care efforts at their finest — distinguishes what the Church does from what government agencies do in responding to disasters like this."
Johnson estimates that each tin roof could be provided for roughly $1,000. He also estimates that each well could cost as much as $10,000, noting that the extent of the Synod's response is contingent upon what God provides through the Church.
Not long after Johnson left for Haiti, LCMS Disaster Response Manager Rev. Michael Meyer went to join LCMS Southeastern District President Rev. Dr. John Denninger, so the two could travel together through some of the hardest-hit areas in North Carolina and South Carolina, which took on torrents of rain as the hurricane moved up the southeastern coastline.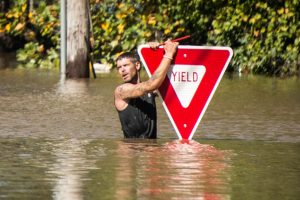 Early reports show several areas in the Carolinas have significant flooding, and more flooding is possible as rivers crest in the coming days. Several major roadways remained closed as of Oct. 11, greatly hindering access to these flooded areas. More than 30 counties reportedly have been declared federal disaster areas, and it could take a week to bring electricity back to many residents.
"As the rivers begin to crest, the extent of the flooding will increase. We're hoping that by Wednesday [Oct. 12] or early Thursday the water levels will have receded enough for us to get in and provide guidance in these additional areas, particularly Eastern South Carolina and in North Carolina," said Meyer. "While some areas are still closed off, we can still meet with pastors and church leaders in the areas of Myrtle Beach, Hilton Head Island and locations in North Carolina as well."
Meyer said while the purpose of his trip is to assess needs and formulate an effective response stateside, he brought with him $3,000 in gift cards so local pastors can provide immediate assistance as the long road to recovery begins. He also brought along devotionals and other disaster response resources to be distributed among area congregations.
Southeastern District disaster responders are calling for volunteers to cut and remove tree debris, to muck-out flood-damaged homes and to help with home repairs for the hurricane victims, once affected areas become safely accessible. Those interested in volunteering should contact Liz DeMik at (703) 899-7244; email etdemik@aol.com or Sally Hiller, (703) 971-9371; email sjhiller@se.lcms.org.
After strengthening to Category 5, Hurricane Matthew later became a Category-4 storm with reported destructive winds in excess of 140 miles per hour as it moved through the Caribbean and up the southeastern coastline.
Recovery and relief efforts in the aftermath of the hurricane come as LCMS Disaster Response resources have been strained this year amid the ongoing response to the recent flooding in Baton Rouge, La., and after the Synod's response to this year's California wildfires. If you would like to assist the LCMS in responding to this developing story through a donation, please call 888-930-4438 or click below.
Give Now
To donate by check, please make checks payable to "The Lutheran Church—Missouri Synod" (or "LCMS"). On the memo line, write "Disaster Response/Relief." Mail your donation to The LCMS, P.O. Box 66861, St. Louis, MO 63166-6861. Gifts are tax-deductible as allowed by law.
Video update
Learn more
---
Roger Drinnon (roger.drinnon@lcms.org) is director of Editorial Services and Media Relations for LCMS Communications.
Posted October 12, 2016 / Updated October 13, 2016 (In the fourth paragraph, the estimate for the number of tin roofs that could be provided for "roughly $1,000" has been changed from "two or three" to "each tin roof.")