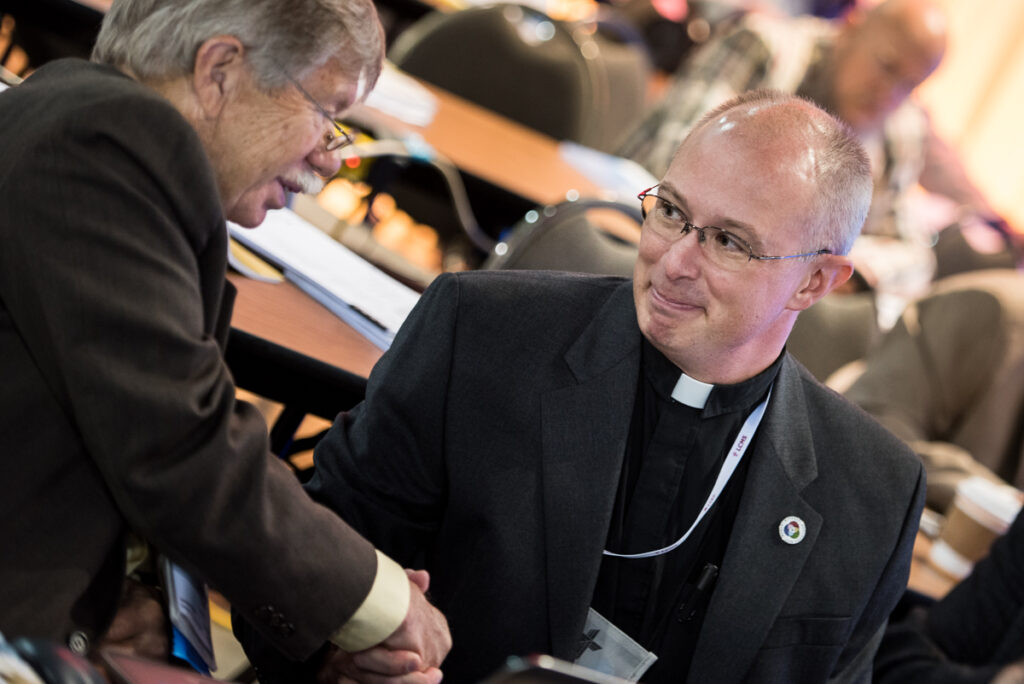 By Katie Schuermann
MILWAUKEE (July 11, 2016) — For the first time in 18 years, The Lutheran Church—Missouri Synod in convention has elected a new secretary of the Synod.
The Rev. Dr. John Wollenburg Sias, second vice-president of the Montana District, received 724 delegate votes (or 66.91 percent) on the second ballot, winning the election on Monday morning.
"The office of the secretary keeps the history of the Synod's actions in convention," says Sias. "It is an office of remembering and communication in support of our real life together, one which the Rev. Dr. Hartwig has managed extremely well these last 18 years. It is a real honor and challenge and pleasure to succeed him in office."
The Rev. Dr. Raymond L. Hartwig first was elected as the Synod's secretary in 1998 and has since served six consecutive three-year terms under four different LCMS presidents. Before his long and respected tenure as secretary, he served as president of the LCMS South Dakota District for 10 years and as a parish pastor before that.
"When I decided to retire," says Hartwig, "it was a head decision, because I knew that at my age I probably should be retiring. I am happy to be leaving this position on good terms with the Synod. I always wanted — whatever I do — to do an exceptional job that people would find acceptable."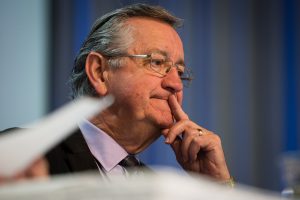 President Rev. Dr. Matthew C. Harrison finds Hartwig's service to the Synod to be more than acceptable.
"Ray Hartwig has a heart of gold and a will of iron," Harrison says. "He is the fairest person you would ever want to meet, and he is absolutely committed to the doctrine and the practice of the LCMS under the Lutheran confessions. He is patient to a fault. I've learned so much from him in the almost 16 years I've known him. I count him as one the greatest gifts from God I've ever worked with in the church."
Also on the ballot for secretary of Synod were the Rev. Bart Day of St. Louis, the Rev. David L. Mahsman of Berlin, Germany, the Rev. Dr. Martin R. Noland of Newburgh, Ind., and the Rev. Ken R. Schurb of Moberly, Mo.
The Revs. John Peter Gierke, pastor of Peace Lutheran Church in Conway, Ark., and Dan P. Gilbert, president of the LCMS Northern Illinois District, were nominated from the floor and added to the ballot with a majority vote on Sunday, July 10 — Gierke with 619 votes (or 60.87 percent) and Gilbert with 594 votes (or 57.84 percent).
"Being secretary of Synod is a very busy job, and it is also a very important job," says Hartwig. "As far as I am concerned, John Sias is a very good selection for that position. He is a younger man with a lot of energy, and he has had some experience with the Commission on Constitutional Matters. He impresses me with how bright he is and quick to learn, so I believe that this will be a smooth transition."
Sias and his wife Heidi currently live in Colstrip, Mont., where he is pastor of a tri-point parish. He will be installed as secretary of Synod on Sept. 10 in St. Louis.
The 66th Regular Convention of the LCMS is meeting July 9-14 at the Wisconsin Center Convention complex under the theme "Upon This Rock." Among 1,500 convention participants are some 1,125 clergy and lay voting delegates.
Katie Schuermann is a freelance writer, author, musician and a member of Good Shepherd Lutheran Church in Sherman, Ill.
Posted July 11, 2016
Learn more
Watch — Livestream and on-demand video
Read — Reporter Online  |  LCMS.org/convention
View — Photo galleries