By Kim Plummer Krull
Just as happy preschoolers wiggle around on the new riding cars at Faith Lutheran Church and School in Stephenville, Texas, Lisa Stroebel happily talks about the time and money her congregation saves with the help of the new Lutheran Federal Credit Union (Lutheran FCU).
"It has really opened up the ability for me as the purchasing agent for our church and school to be able to shop for whatever our church needs more efficiently and cost-effectively," Stroebel, the church's administrator, said of Faith's first corporate credit card, a financial tool she had long searched for and was "first in line" to obtain when Lutheran FCU opened last year.
The lack of a church credit card limited shopping options, "took up time and created hassles" as Stroebel would contact the church treasurer (a busy professional and church volunteer) and wait for checks to be cut.
But when she purchased those riding cars, for example, with Faith's Ministry Classic credit card from the credit union, the congregation could shop for the best price, use a Groupon discount — impossible, Stroebel says, without a credit card — and save more than $300 on the popular preschool toys.
This corporate purchasing veteran also appreciates that the credit card "attaches to the church itself and not to the personal information of any individual members."
"There's no other [credit] card like that out there for a church, at least that I could find," said Stroebel, whose church was the first LCMS congregation to open an account after the credit union's "soft" launch in May 2015 and even before its churchwide opening in January.
"When you're a nonprofit dealing with a budget — a tight budget — your membership entrusts you to handle their money and spend wisely," said Stroebel, who calls the Lutheran FCU "a blessing in so many ways."
No fees, better rates
During its first calendar year in business, Lutheran FCU — one of the nation's relatively few faith-based credit unions — is growing with each new member "first," says Jane Dulle, chief operating officer.
"In a church body with such a deep and long history as the LCMS, it isn't too often we have such a celebration of firsts," she said of Lutheran FCU's earliest members, including the Florida-Georgia District, the first LCMS district to join.
Business Manager John Elliott calls "no fees and better rates" the driving force behind the move away from a commercial bank where the district had been paying $2,000 in annual fees.
"That's money we can now use for the district's mission to serve, assist and encourage congregations in the ministry of Jesus Christ," he said.
Elliott also values the improved customer service. When he calls, "they know who I am and ask what they can do for me," he said of the credit union. "When I call the bank, that isn't always the case."
Nancy Grommet, a Lutheran Church Extension Fund (LCEF) employee, was "right at the front door" when the credit union opened, motivated by the opportunity to save on fees she "learned the hard way" she had been paying to her previous commercial lender.
Fees for an automatic payment "must have been buried in the paperwork," said Grommet, who made the discovery after a payment was missed. She was surprised to learn her financial lender was using a second company to make payments for her.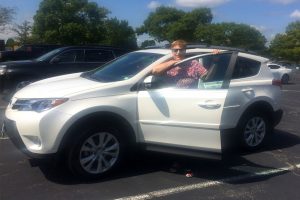 Rather than calculate the cost of two years of "buried" fees, Lutheran FCU's first car-loan customer prefers to focus on how the credit union helped her refinance her loan and save $150 on her monthly payment.
Individual, churchwide benefits  
When chartered in late 2014 by the National Credit Union Administration, Lutheran FCU was cited by the St. Louis Post-Dispatch as only the third new federally chartered credit union nationwide that year and one of a "small fraction" of credit unions with ties to a religious organization.
In June 2015, the ELCA Federal Credit Union joined the faith-based ranks, opened by the Evangelical Lutheran Church in America (ELCA). Both credit unions are distinct in their missions to support their faith-based communities.
The Rev. Ken Krueger, pastor at Grace Celebration Lutheran Church, Cordova, Tenn., had eagerly followed the development of Lutheran FCU, spearheaded and supported by LCEF.
Last May, he was the first rostered church worker to open a credit-union checking account. He has since added a savings account and become a loan customer. Grace Lutheran also is a credit-union member.
As Lutheran FCU vice-chairman, Krueger urges fellow Lutherans to become members "both for the tremendous benefits available to individuals and for the collective benefits of keeping funds within the church and supporting LCMS ministries."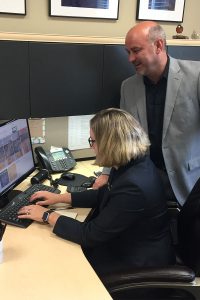 Delegates at the 2016 LCMS convention echoed that encouragement when they passed Resolution 10-02, calling the credit union a "way to connect our LCMS together in a common bond of biblical stewardship and daily household financial management."
Newlywed Cristel White, Ministerial Care coordinator for Concordia Plan Services, was already on board. She and her husband, Keith, refinanced their first home together in Crestwood, Mo., as the credit union's first-home-loan refinance customers.
Keith, a police officer, praises the "good rates and customer service." Those matter to Cristel, too. But having grown up in LCMS churches and schools, she especially appreciates that the credit union serves her fellow members and ministries.
"I like the idea of being a bigger part of the LCMS and trying to help each other," Cristel said. "Isn't that what 'Synod' means? Walking together."
To learn more, visit LutheranFCU.org or call 314-394-2790.
Kim Plummer Krull (kimkrull@sbcglobal.net) is a freelance writer and a member of St. Paul's Lutheran Church, Des Peres, Mo.
Posted August 25, 2016