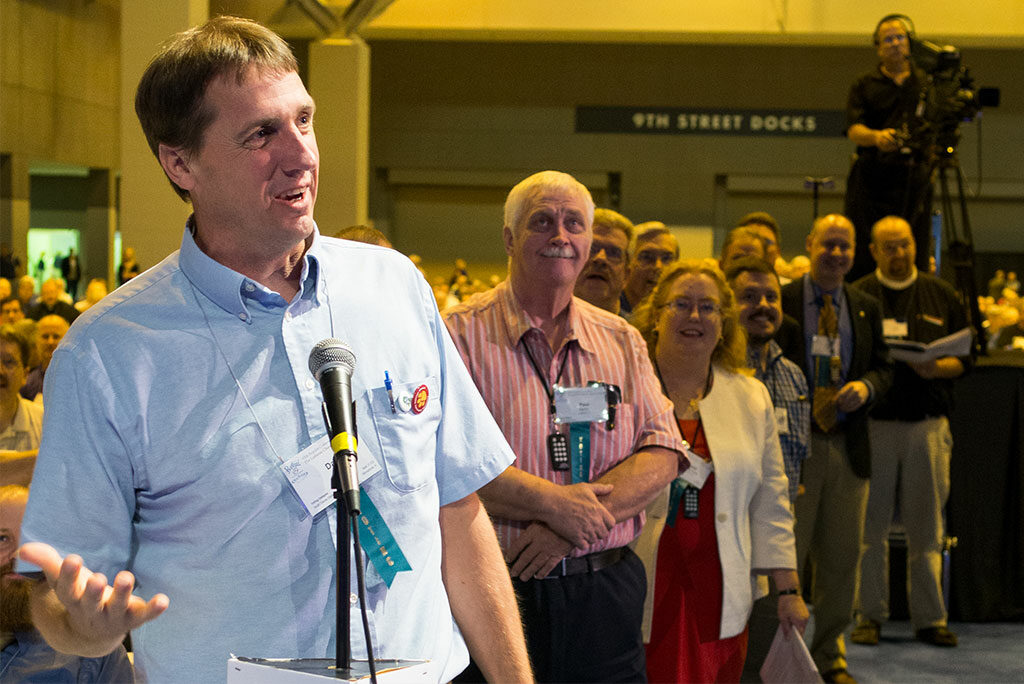 Planners have released more details on events for the 66th Regular Convention of The Lutheran Church—Missouri Synod, set for July 9-14 at the Wisconsin Center in Milwaukee.
Among those updates is a tentative, basic schedule now available on the Synod's convention Web page, lcms.org/convention, under the "Resources" tab near the bottom of the page. A more detailed schedule that includes the order of convention business will be provided later. The schedule is considered tentative, as Bylaw 3.1.9(i)(2) states that the president "shall, at the first session and during the course of succeeding sessions of the convention, announce the order of business for the day and following days."
The convention will begin with an opening Divine Service, 7:30 p.m. July 9. Pre-service music begins at 7 p.m. Convention business will be conducted until 6 p.m. each full day thereafter.
Concordia University Wisconsin, Mequon, Wis, will welcome delegates, special guests and convention exhibitors to a special campus event the evening of July 11, following the conclusion of that day's convention sessions. Convention-goers can make the 20-minute drive to campus on their own or ride shuttles that will depart from and return to the Wisconsin Center throughout the evening. The campus event will include dinner and festivities, plus a concert performance featuring vocalist Erin Bode. Convention delegates can pick up complimentary tickets for this event at the time of on-site convention registration.
Dr. Beverly Yahnke, executive director for Christian Counsel with DOXOLOGY: The Lutheran Center for Spiritual Care and Counsel, said DOXOLOGY will host a "Service of Prayer" at 9 p.m. July 12 at Trinity Evangelical Lutheran Church in Milwaukee. Yahnke said that although the church is located just a few blocks away from the convention center, shuttles will be provided. She recommends convention attendees watch Today's Business for information on shuttle buses that will run in rotation from convention hotels to Trinity before and after the 45-minute service.
"God's Word and prayer are central to the DOXOLOGY program, and corporate worship punctuates all of our events," said the Rev. Harold Senkbeil, DOXOLOGY executive director for Spiritual Care. "We are pleased to provide an opportunity for worship in word and song at the close of a long convention day."
Yahnke said a choir composed of members of area LCMS churches will be directed by Benjamin Culli, organist at Our Savior Lutheran Church, Whitefish Bay.
Eighteen of the 19 convention floor committees will gather May 27-30 in St. Louis to review convention reports and overtures and to develop convention resolutions that will be available in the first issue of Today's Business, which will be published in early June.
The convention will be live-streamed via the Synod website (lcms.org). Reporter will provide details later, as they become available.
Visit lcms.org/convention and facebook.com/LCMSConvention for convention updates.
Read an earlier Reporter Online story about 2016 convention plans, "Planners announce convention theme: 'Upon This Rock.' "
Posted March 30, 2016