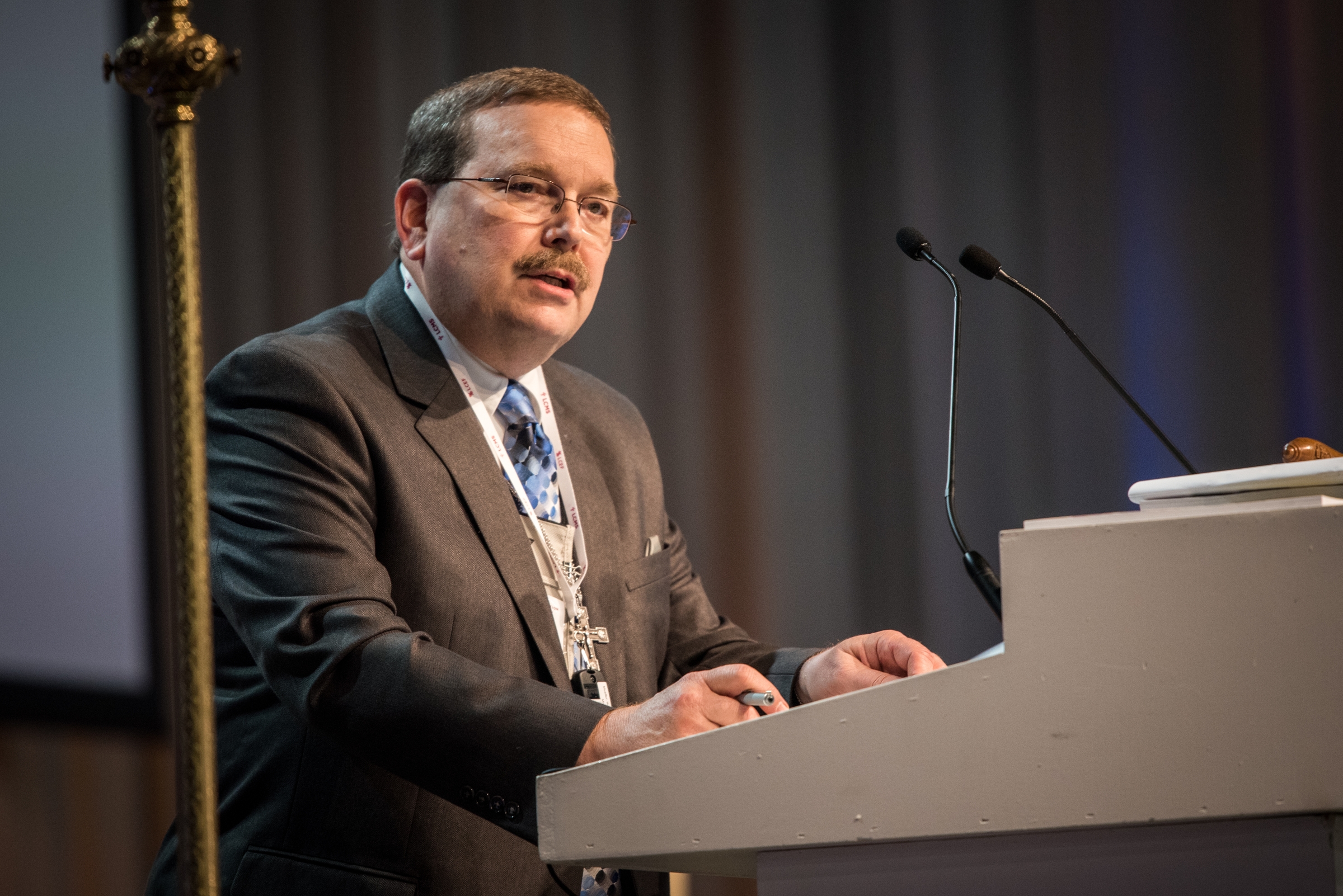 By Katie Schuermann
MILWAUKEE (July 10, 2016) — The 66th Regular Convention of The Lutheran Church—Missouri Synod re-elected the Rev. Dr. Herbert C. Mueller Jr. as first vice-president of the Synod on Sunday afternoon.
With 1,111 delegates casting votes, Mueller received 677 votes, or 65.66 percent, on the first ballot.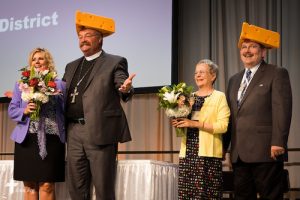 Also on the ballot were the Rev. Dr. Scott R. Murray, with 158 votes (or 15.32 percent of the vote); the Rev. Dr. Daniel Preus, with 86 votes (8.34 percent); the Rev. Dr. John C. Wohlrabe Jr. with 58 votes (5.63 percent); and the Rev. Dr. Carl C. Fickenscher II, with 52 votes (or 5.04 percent).
LCMS Chaplain Rev. William Weedon led the convention in prayer prior to voting.
The 2016 convention marks the second time the Synod utilized a newer three-step process for electing the first vice-president. Following a synodwide balloting process that ended Feb. 9, the president-elect selected five candidates from the top 20 vote-getters (two of whom were chosen from the top five nominees, as required by Bylaw 3.12.2.6) to be voted on by delegates in this convention.
"I am very humbled to have been elected a third time as first vice-president of the LCMS," Mueller says. "It is one of the greatest honors of my life to serve with Matthew Harrison and with my other brothers on the Praesidium as well as the Council of Presidents — second only to the honor of being married to my wife and being father to my three children."
This will be Mueller's third consecutive three-year term as first vice-president of the Synod. Previous to his service on the Praesidium, he was president of the LCMS Southern Illinois District for 16 years and pastor of three different congregations in Illinois.
The 66th Regular Convention of the LCMS is meeting July 9-14 at the Wisconsin Center Convention complex under the theme "Upon This Rock." Among 1,500 convention participants are some 1,100 clergy and lay voting delegates.
Katie Schuermann is a freelance writer, author, musician and a member of Good Shepherd Lutheran Church in Sherman, Ill.
Posted July 10, 2016
Learn more
Watch — Livestream and on-demand video
Read — Reporter Online  |  LCMS.org/convention
View — Photo galleries